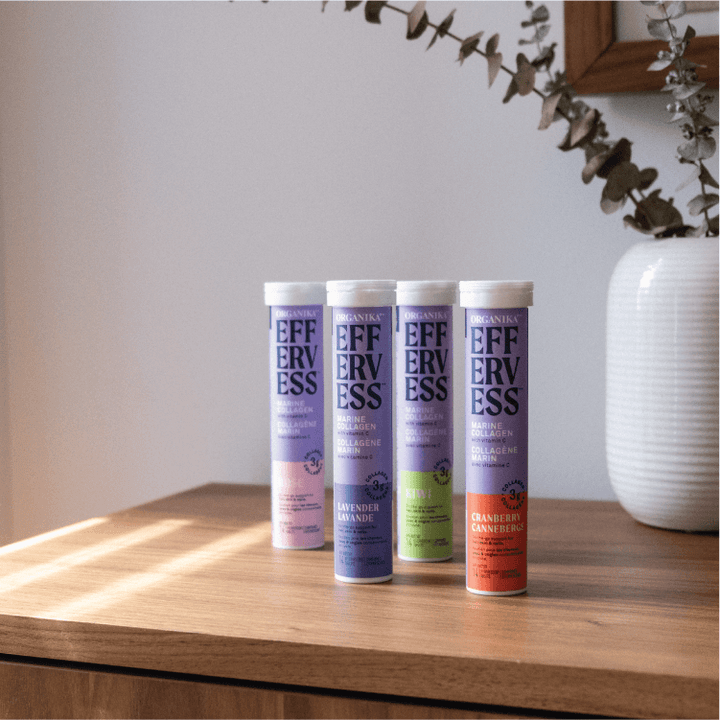 Collagen has been a part of my everyday routine for quite a while now. I'm in love with its many beautiful impacts on my body (hello strong nails and luminous skin), but also how easy it is to include in a meal, smoothie or coffee. 

Collagen has been made even easier with Organika's new Effervess marine collagen tablets - you simply add it to your water and the job is done! Soooo convenient.
Here are 4 ways I get my hydration bliss with Organika's Effervess: 


After a spin class
I'm a big fan of endorphins, and nothing says endorphins more than a spin class - trust me! It really is my favourite workout when I'm looking to SWEAT. I literally give it my everything - which means the post-spin dehydration is real. I drop a tablet of the Cranberry Effervess in my water bottle, which not only adds an amazing taste to my water, but also provides me with all of its benefits, such as: 
Helping with connecting tissue formation.
Supporting immune function.
Being an amazing source of an antioxidants that help protect against free radicals. 
On the go
Whether it's to go to the grocery store, to meet some friends or to walk my dog, I try to always bring water with me. It's a habit I've been trying to implement as much as possible. I like to add a tablet of the Rose Effervess for a fresh summer floral taste! 

During yoga

I've been adding the Lavender Effervess tablet to my water during my morning yoga/stretch sessions which has been so satisfying. While I'm at it, I also listen to some Angus & Julia Stone and diffuse my favourite lavender & eucalyptus essential oil blend for extra calm and serenity. Best way to wake up, let me tell you! 
At the pool/lake/river
Keeping hydrated while sunbathing is obviously a must, and a little extra flavour is always welcome! 😊
My go-to here is the Kiwi Effervess for a fruity kick with loooots of ice and a good light summer read! 
Be sure to let us know what your favourite flavour is on our Insta!