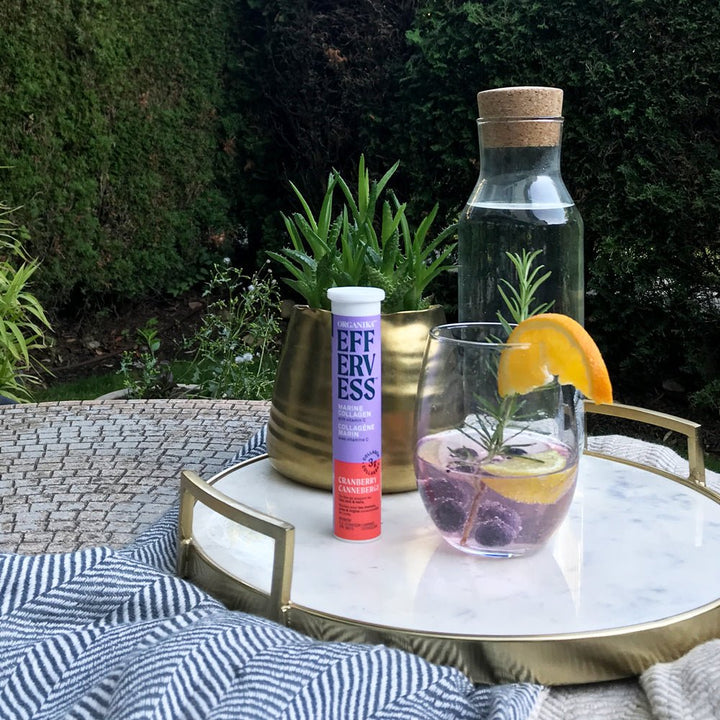 Booze and I are in an on-again-off-again relationship. When we're on, we're not really hot and heavy, but when I take a break I can definitely feel the benefit of some sober curious me-time. 
I enjoy the ritual of a glass of wine to unwind, but even more than that, I enjoy the clarity and energy that comes with not drinking. Alcohol dehydrates the body (mental fog and fatigue are symptoms of dehydration), so it seemed pretty obvious to me: if eliminating alcohol feels this good, imagine what adding more hydration could do.Once I got over the FOMO on cocktails with the girls, I started to get creative with what I could drink in its place. The elements of a classic cocktail are simple: fruity, colourful and flavourful.  Since i'm always trying to fit in as much nutrition as possible, I wanted to go a step further and find the perfect mix of hydration and a nutritional boost to go along with the colourful cocktail vibes. 
So imagine how thrilled I was to discover Organika's newest product: Effervess - travel friendly marine collagen tabs. They come in 4 delicious flavours and conveniently drop into water for an easy dose of collagen + hydration + vitamin C.

Collagen is one of my favourite supplements for inner and outer self care. It not only contributes to the maintenance of healthy hair, skin and nails, but also healthy joints, fascia, and muscles. 
After a few rounds of creation and error, I've created a basic framework for a
dynamic, delicious, and booze-free mocktail that's actually good for you! They are totally customizable, full of flavour, and loaded with collagen, vitamin C, antioxidants and hydration. Try mixing in different fruits or flavours of your carbonated water and Effervess. It's hard to go wrong so be bold and get creative!
Alcohol-Free Cranberry Collagen Cocktail
Ingredients
⅓- ⅔ cup cold water
1 Effervess tab in Cranberry
1 can Carbonated water (flavour optional)
Berries (fresh or frozen)
1 Lemon, orange, or grapefruit
Basil (optional)
Rosemary (Optional)
Ice
How-to
Dissolve one Effervess tablet into ⅔ cup cold water. This may take up to 15 mins - get ahead on the next steps while you wait!
In a separate glass, add your berries. I like to add frozen blueberries right now since they are in season, but i've also made this mocktail with raspberries and blackberries. You can muddle the berries to release more berry flavour or leave them as is for a more visually appealing finish.
Squeeze 1 lemon edge into the glass and cut another wedge for garnish.
Once the tab has dissolved, add the collagen water to the berries and lemon.
Top up the glass with your favourite flavoured carbonated water beverage.
Bonus additions: Add a splash of cranberry or grapefruit juice, a sprig of rosemary or a couple leaves of basil for even more flavour and colour.