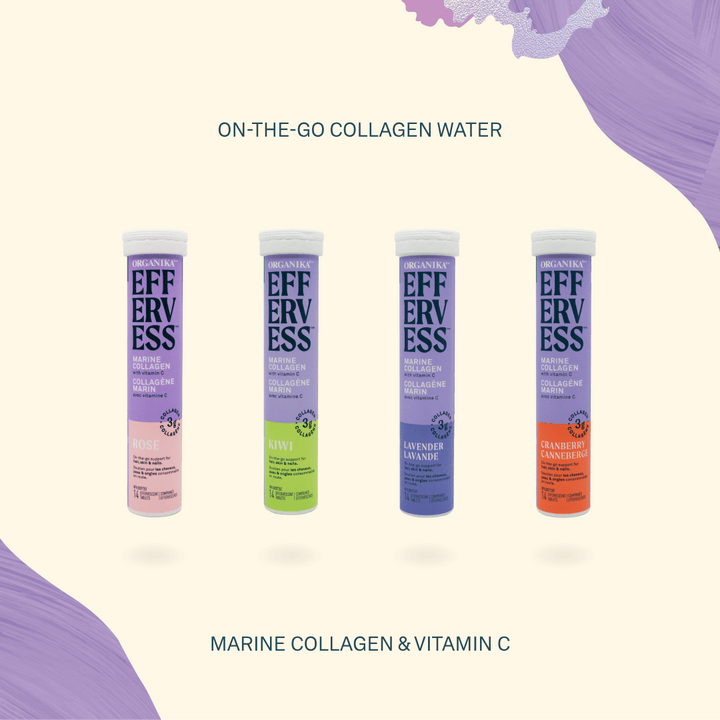 Collagen lovers, we are bubbling with excitement to share these news: we're launching an on-the-go collagen water that's about to bring your hydration game to the next level! 
Here at Organika HQ, we're a teeny bit obsessed with collagen: it's just so versatile! It goes in coffee, smoothies, baked goods and even soups. Collagen is a lifestyle and we live and breathe it. And of course, we're constantly thinking of exciting new ways to take it. The newest addition to our collagen lineup sure does bring it! Meet Effervess: premium marine collagen tablets that make taking collagen water easy - anywhere, anytime.
On-the-go collagen water? Yes please!
Effervess makes getting your daily dose of ingestible beauty easier than ever, with a fun fizzy drink! With four naturally delicious, sugar-free flavours in effortlessly effervescent tablets, all that's up to you is finding your fave: lavender, rose, cranberry or kiwi? 
What are the benefits of collagen water?
Effervess makes the most out of your water by enhancing it with two key glow-enhancing active ingredients: premium marine collagen and vitamin C.
Marine collagen is a source of type 1 collagen: the building blocks of your skin, hair and nails. If you're looking to improve the appearance of those from the inside out, collagen is essential! Some of the tried and tested benefits of marine collagen for beauty, reported by fans of our marine collagen powder, include:
Rejuvenated skin

Improved skin texture and hydration

Fuller and smoother hair

Stronger nails

Faster-growing hair and nails

Reduced cellulite
Vitamin C is a super important antioxidant. You may know it for its role in supporting the immune system, but it also provides protection from the aging effects of free radicals in the body. Another important role of vitamin C is in enhancing your natural production of collagen, as it's essential for the conversion of the amino acid lysine into procollagen, which then transforms into the many different types of collagen found in our skin, hair, nails and beyond.
Collagen water made clean
Our premium marine collagen, the star of the show, is sustainably sourced from the skins of wild-caught cod. The collagen undergoes a process called hydrolyzation, in which collagen particles are broken down into smaller molecules, called peptides, with the help of enzymes - no heat or chemicals involved! These smaller particles are easier for our bodies to digest and absorb, so nothing goes to waste.
It's also worth noting what's not in Effervess: no artificial flavours, colours, preservatives or sugar! By using wild-caught fish as the source of our marine collagen, we can also make sure it is as clean as can be, free of the antibiotics and GMO feed typically used for raising farmed fish.
How should I take my collagen water?
It's as simple as it gets: drop one tablet at a time into water and let it fizz until fully dissolved. Sip often and get glowin'. We recommend taking two tablets a day to take your glow to the next level, but beyond that, the sky's the limit! Here are some of the many ways the Organika family has been enjoying Effervess:
As motivation to stay hydrated in the office

A refreshing poolside drink with a tropical twist

The perfect drink pairing for an outdoor meal

A thirst-quenching workout companion

An effortless way to elevate your water on the go
Ready to keep that summer glow going strong?