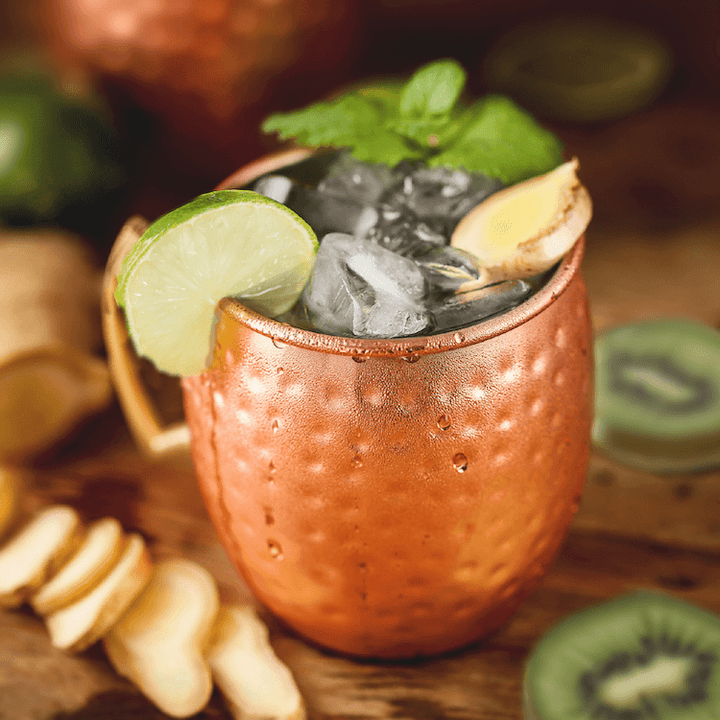 recipes
Kiwi Effervess Mocktail Mule with Ginger
Organika Health
Stay refreshed this summer with the freshness of this super fun mocktail. The combination of ginger and mint with the taste of kiwi will make you think you're in the tropics.
Imagine sipping it poolside, on the deck, or making it at your friend's event... you'll be the talk of the party.
This is a truly tasty summer drink you'll have on repeat!
The best part – you have that touch of kiwi fizz, from the Effervess, which gives you the benefits of Vitamin C and marine collagen. Hair, skin, nail and immune support all in a mocktail! How's that for a must-have bevy?
Makes 2 drinks
Kiwi Effervess Mocktail Mule with Ginger
Ingredients
1 cup crushed ice
1 cup ginger beer or ginger ale
4 tbsp lime juice
1/3 cup club soda or sparkling water
fresh mint, for garnish
sliced ginger, for garnish
2 lime wedges, for garnish
How-to
Grab two copper mule cups (it's ok to use glass or stainless-steel cups if you don't have copper cups) and fill each ½ full of crushed ice.
Add ½ cup ginger beer (or ale), 2 tablespoons lime juice and stir
Top with the club soda or sparkling water
Add your Effervess tablet and let it fully dissolve (no need to stir)
While fizzing garnish with fresh mint, sliced fresh ginger and lime wedges
Revel at your beautiful creation and enjoy!
Notes: Play around with other flavours of Effervess or try with Instant C, D, Zinc Immunity Effervescent tablets as well. Feeling like something extra? Replace the club soda with a shot of clear spirit of your choice.