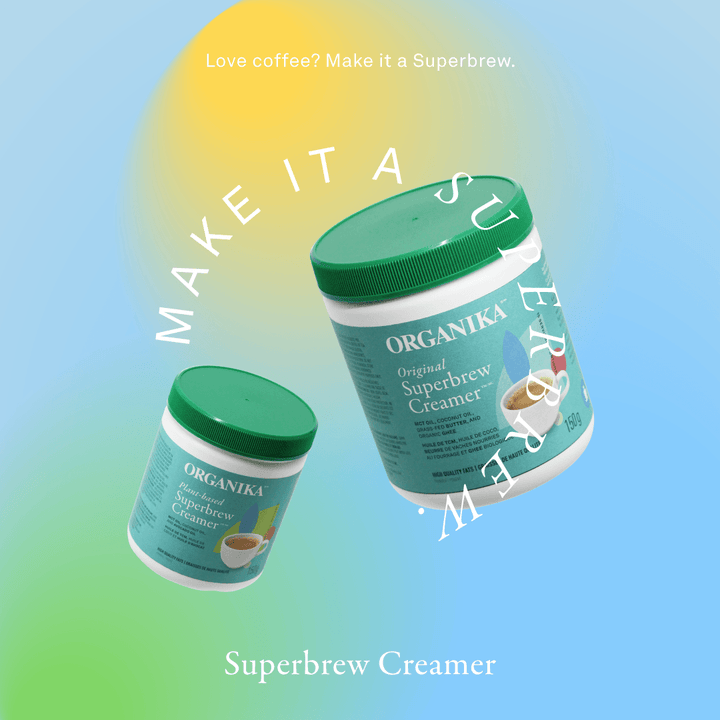 Between us coffee lovers: let's be honest, our morning brew is much more than just a drink. It adds fuel to our fire, warmth to our hearts, and a spring to our step. If you've been a coffee drinker for a while, you probably have your handful of favourite roasts, the ones that bring you to that special happy place. Why compromise the experience with a creamer that's anything less than delicious? Well, java-loving friend, do we have some news for you…
Meet Organika's Superbrew Creamer with MCT Oil
If you love a creamy cup of joe in the morning, you may have noticed a few things:
Conventional creamers are loaded with ingredients we wouldn't want to touch with a ten-foot pole. Corn syrup? Hydrogenated oils? All those artificial ingredients with unpronounceable names? No thanks!

The healthier creamer options in the market are a

nightmare

to use. Who has time for the clean-up that comes with brewing, blending and serving butter coffee every morning? 
Those days are over: Organika's Superbrew Creamers are now here to make your coffee routine healthier and way easier. Our Superbrew Creamers are easy-to-use powder blends made with healthy, quality fats designed to make your coffee – and your day! – better.
Superbrew your coffee with a creamy boost of healthy fats!
Ever stopped to think about what actually makes your coffee creamy? That's right – fats.
We're big fans of healthy fats. Although they generally have a bad rap, fats are actually vital to our health and required for many important body functions! We designed our Superbrew Creamers using the most wholesome healthy fats available, to bring on the creaminess and the health benefits.
The Original: Superbrew Creamer with MCT oil, grass-fed butter and organic ghee
If this is your first time hearing about MCT oil, don't sweat it! MCT is short for Medium Chain Triglycerides – in layman's terms, fats that have a shorter chemical structure and are therefore easier for our bodies to break down and put to use as fuel. Pure MCT is extracted from coconuts (yum!), and it makes for an excellent source of stable energy – no more mid-day crashes!
Butter may not seem like the healthiest choice at first glance, but the key factor to whether or not it is healthy lies in where it comes from. Butter from grass-fed, as it turns out, may be one of the healthiest sources of fat around! Which is exactly why we chose it, along with organic ghee – a type of clarified butter rich in monounsaturated Omega-3s – to complement the goodness of MCT oil.
Shop Original Superbrew Creamer.
Plant-based Superbrew Creamer with MCT oil, coconut oil and avocado oil
We're pretty excited about this one, as it stars our favourite fatty fruit, avocado! Avocado oil is an incredible source of oleic acid, a heart healthy Omega-9, and has been shown to enhance the absorption of important nutrients like carotenoid antioxidants. Plus, it's completely vegan-friendly, much like MCT and coconut oil, making this an amazing option for all those following a plant-based diet!  
Shop Plant-based Superbrew Creamer.
How does Superbrew Creamer with MCT oil stack up against other coffee creamers?
Great question! There are lots of coffee creamers out there, and many other MCT-based products from Organika. We put together a handy-dandy table to help guide your decision.