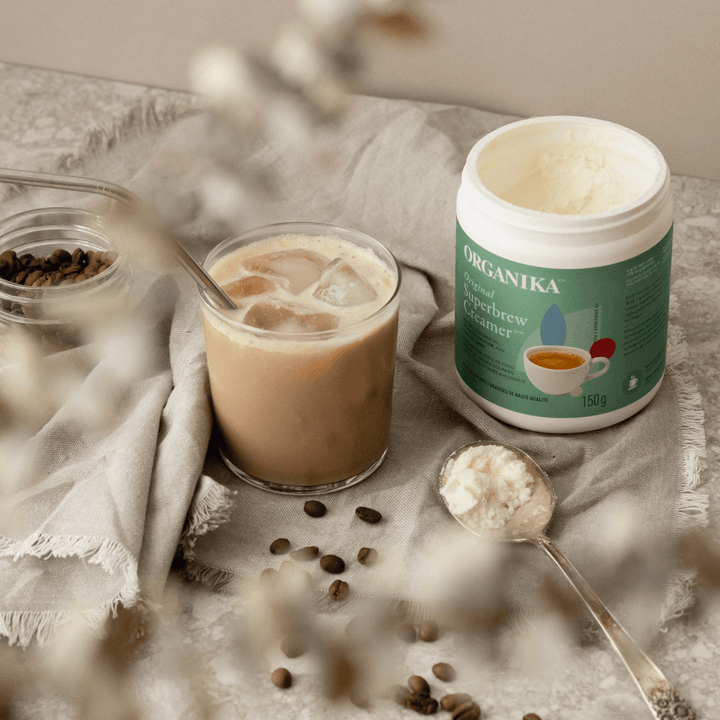 Product spotlight
Superbrew Hits Home - Traditionally and Nutritionally
Christina Chandra
When I saw that Organika had created new creamers for coffee, I was excited to add to my tower of blends that are beneficial for different reasons. 
This latest addition to the line-up, however, hit home for me.
The Superbrew Creamers contains a number of beneficial fats that I have seen being used growing up. 
I grew up in a South Pacific/Indian household, my ancestors are from India, and my parents were born in Fiji. As such, both ghee and coconut oil were always in our cabinets. 
Actually, I watched my mother make ghee on the stove, as she learned to do so from her mother before that, and I'm sure that I was massaged in coconut oil from birth.
Growing Up with Ghee
Ghee was always used in two ways:
When Cooking
Because the milk solids are removed, it allows for the higher smoke points Indian cooking demands. For example, frying flatbreads (puri), or sautéing spices on high heat (to release the aromatics). It was and still is used in creating sweets always used ghee (which were often deep-fried), and desserts used for prayer offerings, such as halwa (a semolina dish), or in cooking flavourful dishes such as kitchari (an Ayurvedic meal of rice and lentils). Ghee provided a flavour profile and smell that was not comparable to any other oil, it also provided a richness that didn't upset the stomach. 
More than the taste of dishes, cooking with ghee was always considered "warming" or "healing". It would give the body a boost to heal from pain, to recover cells lost (eg. after giving birth), or decrease inflammation. Now, looking back, I see that it was not an old wives tale... but by providing the beneficial fats, without the lactose and other solids, ghee truly did heal and nourish. 
When Praying
Ghee was always a necessity in prayer rituals. In Hinduism, the fire is a large part of prayers, this was called the Havan. This ancient Vedic fire ceremony symbolizes removing obstacles and new beginnings. Ghee would be mixed with dried roots and herbs and added as an offering into the Havan. I now know, because of the high smoke point of ghee, it served as a good medium. In fact, the diyas we would light around the home during Diwali (the festival of lights) often contained ghee as well. The lights would be on all night. 
Growing up with ghee in the home really symbolized being fed well, healing, health, and spirituality. 
Continually Using Coconut Oil 
One of the most surprising food trends, to me, was coconut oil. 
Why? 
Growing up, this was nothing out of the extraordinary. In fact, it was used so readily in South Pacific and South Asian households, it was a staple. 
However, coconut oil was not often used for cooking. The use of coconut was varied, the meat consumed, the water was drunk, and it would be desiccated and added to many things such as chutneys, daals, and sweets. However, the actual oil itself was often reserved for more therapeutic uses: skin, hair, and in a massage. 
Therapeutic Uses of Coconut Oil
In my home, coconut oil was the solution to many health issues. 
Coconut oil was also used as a natural moisturizer, to combat dry or itchy skin, on rashes, or to simply provide a glow. It was often used in pregnant women to prevent stretch marks, or to heal the skin postpartum. 
One of the most common ways coconut oil was used was to create long, luscious hair in the Indian community. I vividly recall having my head massaged with coconut oil, at the time I was embarrassed...and now it's all the rage. How ironic?
However, one of the most important uses of coconut oil, and still is, is massage. This was done from babies to the elderly. For babies a coconut oil massage helped to soothe and help them grow, for the elderly it was thought to help with pain management or arthritic pains, and in postpartum women helped to increase blood circulation. 
No matter what the use, coconut oil was a healing tool, a carrier oil to replenish the body. It has always been a very powerful and natural source of healthy fats and vitamins that can be absorbed by the body to heal the body. 
I'm so proud that my ancestors and families knew this, and is a part of my culture. 
Combining The Nostalgic Fats in My Coffee
Knowing that the benefits of both ghee and coconut oil are now being widely accepted and recognized feels incredibly satisfying. Something that was so foreign to my peers growing up is now a must-have in our communities. However, most importantly, knowing that one can easily consume these by just adding them to your coffee, or tea is a fantastic way to easily consume the benefits in a more modern fashion. 
The benefits and ingredients of the Indian traditions have transcended and landed in our cups. 
The Original Superbrew Creamer provides that burst of energy you need, helps with inflammation, keeps you full longer, and feels healing. 
Perhaps it's the nostalgia (as I can smell the hint of ghee), or maybe it's now knowing that my grandmothers were right all along (about why everything they gave and used was so good for us), or perhaps it's a sense of pride...that some of the most beneficial ingredients come from my culture. 
Either way...it's a pretty special blend. 
Sticking to plant-based? No worries. The Plant-based Superbrew Creamer is just as amazing, with MCTs, coconut oil powder and avocado oil powder.