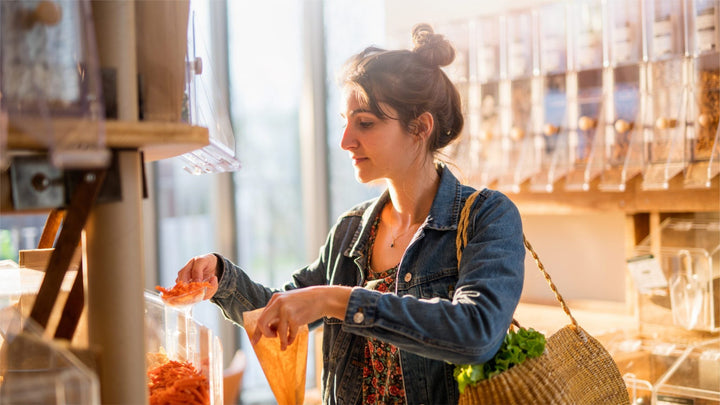 Canadian land, lakes and oceans grow amazing food for us. We are fortunate in Canada to have so much healthy, clean food to satisfy our palate with. From East to West, I have listed some of my favourite markets to shop at, which support local food growers and give you an opportunity to talk to growers themselves or knowledgeable staff.
Toronto, Ontario
Kensington market
has both great food and local vendors. My two main stops here are at
Sanagan's Meat Locker
and
Essence of Life
Organics.
Both are on my radar due to their fantastic prices as well as helpful and friendly staff. Once a month, I place an order through a great company called
truLocal
. This company makes shopping for quality meats easy and offer a great price! You make your order online by building a box of your desired products and they fill the order with local butcher products, ship it to you, and it arrives a day or two later. This company is also available for order in Alberta and British Columbia.
Regina, Saskatchewan
I have started making it a habit to stop by
Local and Fresh
when I land in the prairies. I stop at the warehouse and grab a few goodies before my road trip starts. This company is fantastic in that it supports local farmers in the community, allows you to order online, and delivers right to your door!
Saskatoon, Saskatchewan
The
Saskatoon Farmers Market
is open all year round! It is great because there is such a diverse variety of vendors and you can literally make your visit last hours with good food and music, and in the winter,  they even have ice sculptures! Make sure to stop by
Fonos Fish
booth for amazing cold water, line-caught pickerel and more. Warning, if you are not an early riser the fish will sell out before you get there; it is that good!
Steep Hill Foods
is Saskatoon's first organic grocery store and is a true cooperative. Located at 730 Broadway Avenue, it offers membership discounts and supports local businesses. This is a zero-waste grocery store and you can volunteer to work there a couple hours at a time to receive an even larger discount off food. This place is unique and truly amazing!
Calgary, Alberta
Community Natural Foods
in Calgary is hands down a must stop every time I am in the city. This health food store has history, character and phenomenal staff. In the heart of downtown Calgary, Community Natural Foods is not only a grocery store, but a place for public education. They offer many free seminars with a great lunch in their bistro, and you can always learn a great deal from their knowledgeable staff.
Calgary Farmers Market
has over 75 local vendors, serves brunch on Sundays, and is open all year long Thursday-Sunday. It is definitely worth checking out!
Kelowna, British Columbia
Nature's Fare Markets
is a great place to shop local, eat lunch and learn! Natures Fare is an amazing community of individuals coming together for common goals. You can learn so much just by shopping at Nature's Fare. They often have in-house nutritionists or naturopathic doctors that you can have a free visit with. They also hold many evening seminars for customs on hot new health trends and topics. Make sure to drop by and try one of their many fantastic and creative smoothies from the bistro while you are there!
Vancouver, British Columbia
West Wood Organics
is truly the heart and soul of health food stores. The store owners are a couple who have put integrity and love into your food shop! This is a place keeps is eco-friendly, local and supports the community.
Spud.ca
takes the edge off city living with its easy online shopping that delivers right to your door. This website is your all-in-one stop where you can shop everything from local produce to health and beauty supplements.
Victoria, British Columbia
For food from local neighbourhoods, check out
Dan's Farm & Country Market
which is located a short drive outside the city in Saanichton. Here you can have lunch, shop, and bring the family to check out the animals on the farm, such as chickens, goats and rabbits.   This lovely list of amazing stops for food are ones in which I am familiar and only a fraction of what Canadian cities and towns have to offer. I would love to hear from you where your favourite stops are to shop and support local. Feel free to reach out to me on Instagram
@amy_kwilson
and tag or share with me your local grocery store! Eat well, laugh a lot and take care. Amy Wilson
Amy is a certified nutritionist with over 7 years of experience working in the health and fitness industry. She is currently in her fourth year as a Naturopathic Medical Student and has a special interest in gut and brain health. Find her on Instagram: 
@amy_kwilson