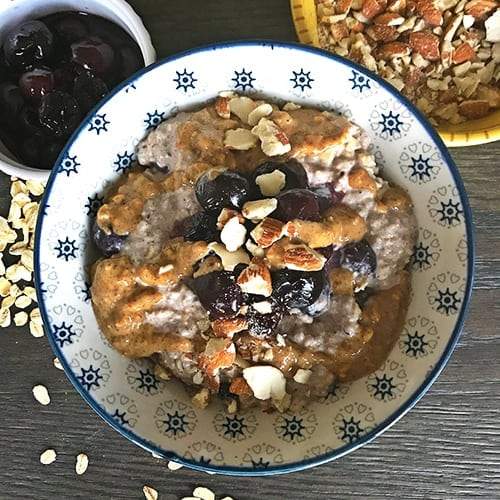 Eat + Drink
Cherry Almond Overnight Proats
Dr. Tara Weir
CHERRY ALMOND OVERNIGHT PROATS
The cherry and almond combo is always a winner in my books.  And here this dynamic duo finds perfect harmony in a make-ahead meal that is packed with all the goods -- vitamins & minerals, antioxidants, fibre, healthy fats, and protein! Honestly, there are few breakfasts as simple and satisfying as overnight protein oats ("proats").  You simply mix the ingredients together in a matter of minutes the night before, and they soak while you sleep.  In the morning, they're ready whenever you are! These oats can be enjoyed cold or warm.  I like to serve them chilled but topped with warm cherry compote and almond butter.
CHERRY ALMOND OVERNIGHT PROATS
EASY | SERVES 2 LARGE SERVINGS
Ingredients:
2/3 cup gluten-free rolled oats
1/4 cup almond meal
2 Tbsp Organika Health Enhanced Collagen (omit for vegan)
2 Tbsp white chia seeds
2 Tbsp shelled hemp seeds (gluten-free if needed)
2 tsp Organika Health Gelatinized Maca powder
1 cup unsweetened almond or nut-free milk
3/4 cup canned organic full-fat coconut milk
1/4 tsp pure almond extract (optional)
1 cup fresh or frozen cherries
optional toppings: warm cherry compote (just frozen cherries that have been heated up until slightly thick and syrupy), warm almond butter, and chopped raw almonds
Directions:
Put all of the ingredients except toppings in a bowl or divide among single-serving mason jar(s) and stir well to combine.
Cover and refrigerate overnight (or for a minimum of 6 hours).
In the morning, stir, add toppings and enjoy!
Cherry Almond Overnight Proats can be stored in an air-tight container in the fridge for 4-5 days.   By: Dr.
Tara Sunshine
(
@drtarasunshine
)
Tara is an avid traveller, fitness enthusiast, and aspiring chef who endeavours to inspire others to experience the joy & richness of life.