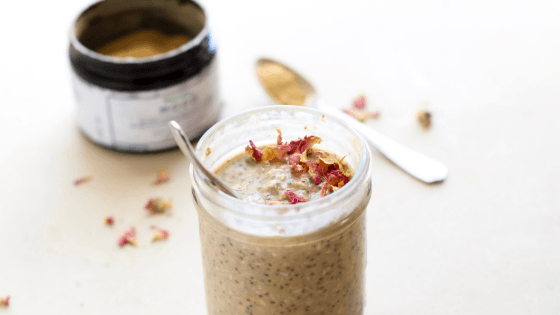 Recipes
Chia Ashwaganda "Mood Enhancing" Overnight Oats
Megan DeJong
Want to start your mornings off on the right foot? Nothing beats a healthy and delicious breakfast! Even more so with a dash of mood-balancing, brain-boosting
Ashwagandha
. Try it out in this super easy overnight oats recipe from
Meg De Jong
.
Chia & Ashwagandha Overnight Oats
Ingredients
1 cup unsweetened almond milk 1 ripe banana (frozen works well) 1/3 cup whole rolled oats 1 Tbsp. chia seeds 1.5 tsp. Organika "Mood" Ashwaganda Powder ½ tsp. cinnamon 1/3 cup strawberries (fresh or frozen will work)
Instructions
Place almond milk and banana in a blender and mix until well combined Place the oats, chia,
Organika "Mood" Ashwaganda powder
, and cinnamon in a 500mL mason jar Add the almond milk/banana mixture to the mason jar, place lid on, and shake well Put the mason jar with the lid on in the fridge for a minimum of 1 hour. The mixture should be thick and the chia seeds should appear gelatinized before you remove from fridge. When you are ready to eat, add fresh strawberries Mix and enjoy
NOTE:
Letting this recipe sit in the fridge overnight works really well if you want to enjoy this for breakfast the next morning  
Meg De Jong is a Registered Holistic Nutritionist located on Salt Spring Island. She has a passion for growing, cooking and baking delicious food! Follow Meg on 
Instagram
, or check out her 
website
.