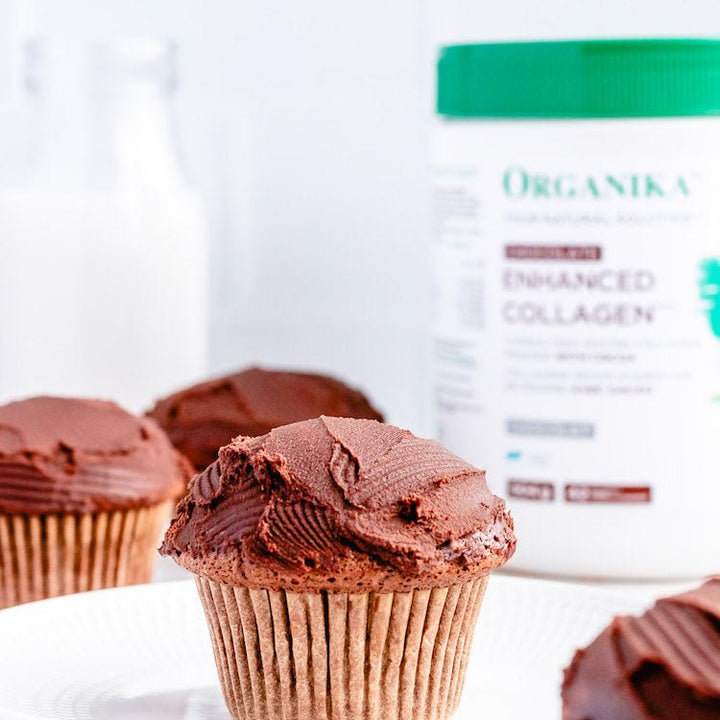 recipes
Chocolate Collagen Cupcakes
Tina Gravalos
I have been using collagen powder in my coffee and smoothies for a long time now, and recently started incorporating it into my baking recipes. As a nutritionist and recipe developer, I love being able to create recipes that have healthy benefits, too.
When I was brainstorming a recipe to whip up with the Chocolate Enhanced Collagen, I immediately thought of chocolate cupcakes with chocolate frosting! I mean, what a great way to kick up the flavour with some more chocolate (the more the merrier).
The cupcakes, along with the batter, are super simple to make and they are so decadent! I made them gluten-free, dairy-free and used coconut sugar. You're welcome!
I hope you enjoy these as much as I did. I taste tested along the way because quality control is important!
Chocolate Collagen Cupcakes with Chocolate Frosting (makes 7 cupcakes)
Ingredients
CUPCAKES:
3 eggs
1 cup coconut sugar
1 cup 1:1 gluten-free baking flour
2 tbsps cacao powder
2 scoops Chocolate Enhanced Collagen
1 ½ tsps baking powder
1 tsp pure vanilla extract
¼ tsp sea salt
2 heaping tbsps coconut oil
½ cup semi-sweet chocolate chips
FROSTING:
½ cup + 2 tbsps semi-sweet chocolate chips
2 heaping tbsps. coconut oil
¼ cup coconut milk, unsweetened, from a carton
¼ tsp sea salt
1 scoop Chocolate Enhanced Collagen
How-to
CUPCAKES:
1. Preheat the oven to 325°F and line a muffin pan with muffin liners.
2. In a large bowl, add the eggs, coconut sugar and mix with a hand mixer until smooth and fluffy, about two minutes.
3. Add the flour, cacao powder, collagen powder, baking powder, vanilla, sea salt and mix again until combined.
4. In a small saucepan, heat the coconut oil on low heat and add the chocolate chips. Continuously stir until the chocolate has melted.
5. Pour the melted chocolate into the cupcake batter and mix again until smooth.
6. Fill each muffin liner about ¾ of the way up and bake for 23-25 minutes or until you can stick a toothpick in and it comes out clean.
7. Let them cool completely and then slather that chocolate frosting on top!
FROSTING:
8. In a small saucepan on low heat, add the chocolate chips, coconut oil, coconut milk, sea salt, and continuously stir until melted. Add the collagen powder and keep stirring until combined.
9. Let cool for 15 minutes and then refrigerate for 15-20 minutes or put in the freezer for less time. This will help the frosting to thicken up. Check on it periodically and stir.
10. Use a knife to spread the frosting onto the cupcakes.