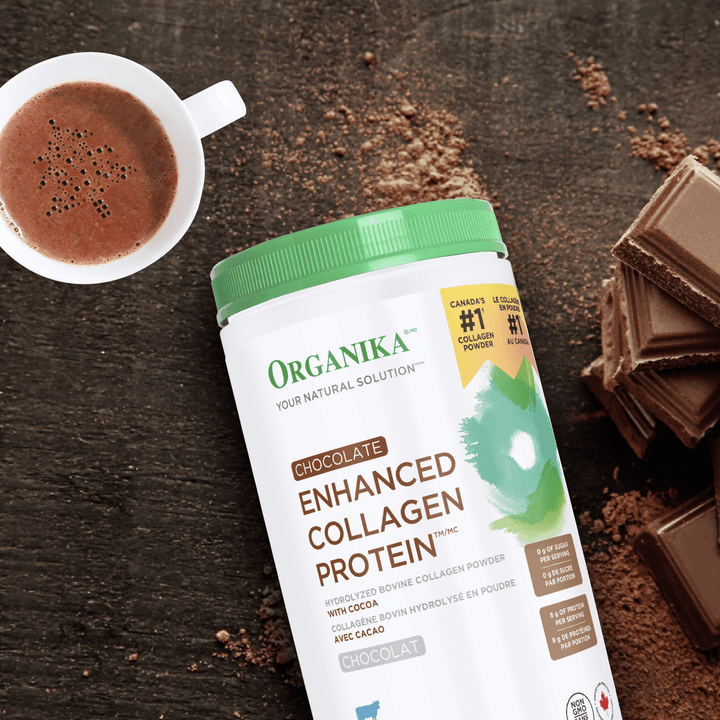 everything collagen
Go ahead and indulge with Chocolate Enhanced Collagen Protein™, Exclusively at Costco
Organika Health
From Canada's #1 Collagen Powder Brand NEW Chocolate Enhanced Collagen Protein™
How many times have you been craving something sweet, something tasty, but held yourself back because it was too high in sugar... or you thought you "really shouldn't."
Enjoy an indulgent better-for-you treat.
Why Collagen?
Collagen is the most abundant protein in our body, responsible for supporting luscious hair, glowing skin, strong nails and healthy bones & joints.
As we age, the collagen our body produces decreases at an exponential rate. As a result, some of the structure collagen gives us goes down too (i.e. sagging skin, brittle nails, and creaky joints).
Replenishing collagen stores has become a goal for many that wish to live healthier and combat the stereotypes of aging.
Having said all that, living healthy and supporting your bones, joints and beauty doesn't have to be boring. Right?
Deliciously decadent chocolate, you'll forget it's good for you!

Taking our Award-Winning Enhanced Collagen Powder, we have formulated something for the chocolate lover in you.
This chocolate collagen protein powder offers a smooth, creamy chocolate flavour that has no added sugar or artificial ingredients. It also packs a whopping 8g protein and 8g collagen per serving.
Yes, whoa!
It is simply collagen and cocoa and natural sweeteners (monk fruit and Stevia).

Ready To Use Cocoa
Best served warm, Chocolate Enhanced Collagen Protein™
can be enjoyed as a beverage, in baking, shakes... the options are endless! Use as you would cocoa.
Here are some ideas to get you started:
Use instead of regular cocoa in cookies and muffins

Make a mocha

Create a tasty milkshake

Use it as a flavour enhancer in yogurt, cereals, or spreads
Finally, a truly guilt-free chocolate treat with the added benefit of protein and collagen.
Chocolate Enhanced Collagen Protein™ is now available exclusively at Costco.ca!