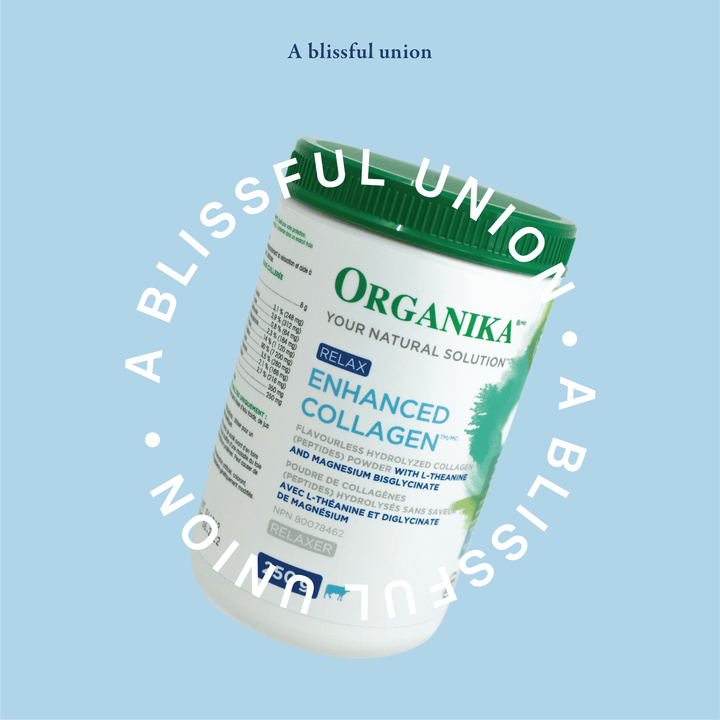 When it comes to supporting your immune system, keeping your mental and physical stress levels as low as possible is one of your best defences. High stress and anxiety levels can suppress the function of our immune system and leave us more vulnerable. Thankfully, there are many ways in which you can reduce stress and anxiety, which include things such a yoga, meditation, deep breathing and more. However, another great way to help reduce stress and achieve a feeling of calm, is with Organika's Enhanced Collagen Relax. This unique product is made up of three natural and powerful ingredients, collagen, magnesium, and L-theanine, that will help reduce stress and support your immune system.
How does Collagen help immunity?
Collagen is a great source of protein, which is essential for our body and our immune systems. Because collagen powder is soluble, meaning it is easily absorbed, it will provide essential nutrients and building blocks to the billions of immune cells all around your body. When your immune cells are well nourished, they can function optimally to help protect you. Collagen can also help promote a feeling of relaxation and calmness, as it is a rich source of the amino acid glycine. Glycine has a calming effect on the nervous system, and is one of the most abundant amino acids found in collagen. When the nervous system is in constant overdrive during states of stress, it weakens our immune function capabilities. Glycine can support immunity by calming you down and helping you get through the day-to-day stressors with more ease.
Magnesium and relaxation
When it comes to stress and anxiety, magnesium is key. When we are overly stressed, our body burns through vitamins and minerals at a much faster rate. One of the minerals that gets used up quickly in this process is magnesium. Magnesium is important for hundreds of biological reactions around the body, including in the immune system. It is imperative to keep this mineral plentiful in our diets. Magnesium also works to relax both the nervous system and our muscles. When our body can effectively relax, our immune system can work optimally.
L-theanine
L-theanine is an amazing amino acid that is found in tea leaves. L-theanine offers many health benefits, and is well known for its therapeutic effect of calming the mind. One of the best things about L-theanine, is that although it is calming, it does not cause drowsiness. L-theanine is therapeutically used to help increase focus and concentration by providing relief to an overactive and/or scattered mind.
When is the best time to take Collagen Relax?
Anytime! Taking Collagen Relax during the day will help promote calmness, without drowsiness. Taking it in the evening before bed, will help your body and mind relax so you can get into a deeper sleep faster.
Collagen, magnesium and L-theanine work well together to keep you calm, so your immune system can stay active and strong! When we think of collagen, we mostly think of hair, skin, and nails, but it is worth noting that the benefits go beyond just the external results we see. This powerhouse food aids in immune function, joint health and may even help curb your anxiety.
Be happy, be healthy!
XO Amy