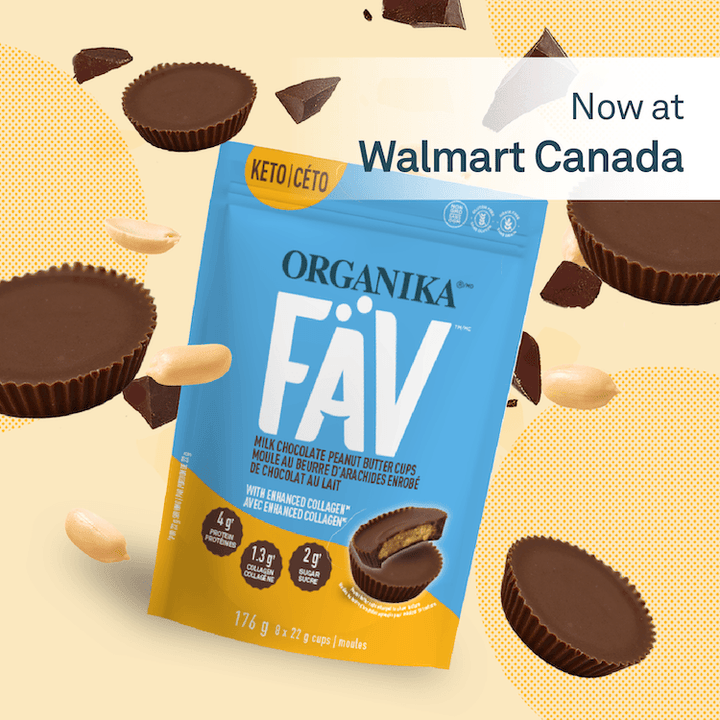 Organika News
Get FÄV Milk Chocolate Peanut Butter Cups at WALMART
Organika Health
The smarter way to indulge!
Fans of snacking, treats and chocolate will be happy to learn about our newest treat!
Enjoy melt-in-your mouth, milk chocolate, nutty decadence with NEW FÄV Milk Chocolate Peanut Butter Cups with Enhanced Collagen. Sprinkled with Canada's best-selling collagen powder, our FÄV Peanut butter cups are the smarter way to indulge your sweet tooth, with healthy fats, and low net carbs.
The details
With 4 g protein, 1.3 g 100% pure hydrolyzed collagen, and only 2 g sugar (per cup), made with natural peanut butter, all in a keto-friendly milk chocolate coating, this is the treat you have been waiting for. Reap the benefits of clean protein and low carbs, while savouring the taste of chocolate and peanut butter.
This will become your favourite gluten-free treat, we dare you to try it!

Now at Walmart!
You can get these delicious FÄV treats now at Walmart! Buy a pouch of 20 cups to enjoy as a treat when you need it, or share with your friends.
Search for a Walmart location near you: Stores Near Me | Walmart Canada
Want to learn more?
Q: What is the difference between steviol glycosides and stevia extract?
A: They are both the same thing, just different names.

Q: Is the Hydrolyzed beef collagen the same as the Enhanced Collagen? Do we know approximately how much collagen per cup?
A: Yes, it is the same hydrolyzed collagen peptides from grass-fed cattle that is in our Enhanced Collagen. There is 1.3 g of collagen protein per cup.

Q: What is the purpose of the Sunflower lecithin?
A: It helps to bind the cocoa solids, sugar and milk so they stick to the cocoa butter. It is a standard process in chocolate making.

Q: Why are there so many sweeteners used?
A: These are natural sweeteners and used together to mimic the taste of sugar as closely as possible. In addition, it offsets any undesirable aftertaste of any one sweetener.