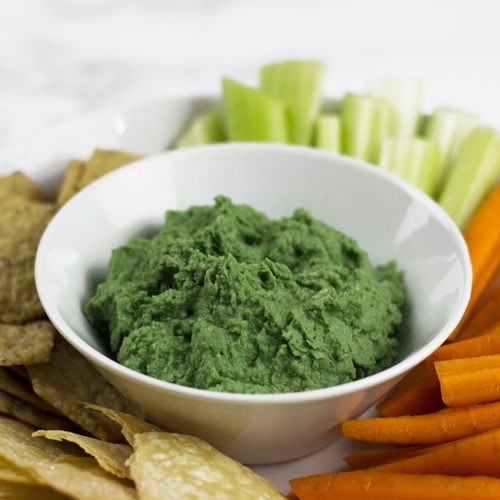 Eat + Drink
Green-Powered Hummus with Spirulina
Organika Health Products
Power up your hummus with a boost of green
Hummus and veggies is an awesome go-to snack that keeps things healthy. Add some spirulina to the mix and you've got pure dip-able magic. Hummus has a great nutrition profile. Made from chickpeas, tahini and olive oil as a base, you get lots of fibre and protein from the chickpeas plus a dose of healthy satiating fat from the tahini and olive oil. It's also extremely versatile to use. It makes for a great sandwich spread, or works well served with crackers or veggies. Try adding it to a veggie wrap for lunch, or top your burger with some green powered hummus at your next barbecue. This recipe adds some greens to the mix thanks to the spirulina powder. Spirulina is a blue-green algae with a handful of benefits. It's a great source of plant based protein and iron, and packed with antioxidants. Try this spirulina recipe to add some extra plant power to your hummus.  
Green-Powered Hummus
Ingredients
1 15oz can organic chickpeas
1/2 cup organic tahini
1/4 cup organic extra virgin olive oil
1/2 a lemon, juiced
2 garlic cloves, minced
salt, to taste
Directions
Add all of the ingredients to a food processor and pulse until smoothly combined.  
What do you eat with your hummus?