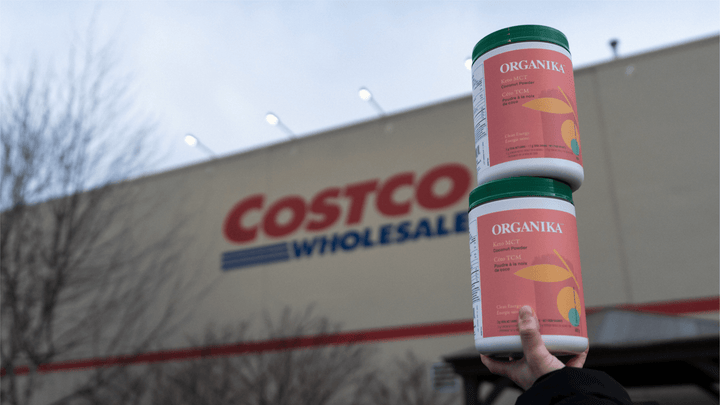 To the coffee lovers out there: we've got good news for you. You can now get a dreamy, creamy coffee that's actually good for your health! Meet Keto MCT Coconut Powder, a healthier alternative to conventional coffee creamers. What makes it so healthy, you ask?
Made clean: Move over, hydrogenated oils. Keto MCT Coconut Powder is made with clean and premium ingredients only, so you can feel better about your daily coffee!

Powered by coconuts: Keto MCT Coconut Powder is a great source of MCTs, a healthy fat derived from coconuts that is easily absorbed by your liver, for an almost-instant source of energy. 

Tummy friendly: If you keep up with health trends, you may have heard of prebiotics - dietary fibres that feed the friendly bacteria that live in your gut. Keto MCT Coconut Powder has plenty of non-GMO prebiotic fibre, to help you fulfill your daily fibre needs and keep your gut health in check.
Can't wait to go coconuts with your coffee? Our healthy keto-friendly creamer lands at Costco Canada warehouses on December 24 - you won't find it anywhere else!
Find your nearest Costco location:
Ontario & Quebec
Ajax - 150 Kingston Rd E, Ajax, ON L1Z 1E5

Ancaster - 100 Legend Ct, Ancaster, ON L9K 1J3

Barrhaven - 4315 Strandherd Dr, Nepean, ON K2J 5P8

Barrie - 41 Mapleview Dr E, Barrie, ON L4N 9A9

Burlington - 1225 Brant St, Burlington, ON L7P 1X7

Downsview - 100 Billy Bishop Way, North York, ON M3K 2C8

Etobicoke - 50 Queen Elizabeth Blvd, Etobicoke, ON M8Z 1M1

Gatineau - 1100 Boulevard Maloney O, Gatineau, QC J8T 6G3

Gloucester - 1900 Cyrville Rd, Gloucester, ON K1B 3V5

Guelph - 19 Elmira Rd S, Guelph, ON N1H 6J4

Kanata - 770 Silver Seven Rd, Kanata, ON K2V 0A1

Nepean - 1849 Merivale Rd, Nepean, ON K2G 1E3

S Mississauga - 3180 Laird Rd, Mississauga, ON L5L 6A5

St Catharines - 3 N Service Rd, St. Catharines, ON L2N 7P9

Sudbury - 1465 Kingsway, Sudbury, ON P3B 2E7

Thorncliffe Park - 42 Overlea Blvd, East York, ON M4H 1B8

Waterloo - 930 Erb St W, Waterloo, ON N2J 3Z4

Westminster - 4313 Wellington Rd S, London, ON N6E 2Z8

Windsor - 4411 Walker Rd, Windsor, ON N8W 3T6
British Columbia
Abbotsford - 1127 Sumas Way, Abbotsford, BC V2S 8H2

Kamloops - 1675 Versatile Dr, Kamloops, BC V1S 1W7

Kelowna - 2479 BC-97, Kelowna, BC V1X 4J2

Langford - 799 McCallum Rd, Victoria, BC V9B 6A2

Langley - 20499 64 Ave, Langley City, BC V2Y 1N5

Nanaimo - 6700 Island Hwy, Nanaimo, BC V9V 1K8

Port Coquitlam - 2370 Ottawa St, Port Coquitlam, BC V3B 7Z1

Prince George - 2555 Range Rd, Prince George, BC V2N 4G8

Richmond - 9151 Bridgeport Rd, Richmond, BC V6X 3L9

Vancouver - 605 Expo Blvd, Vancouver, BC V6B 1V4

Willingdon - 4500 Still Creek Dr, Burnaby, BC V5C 0B5
Alberta & Prairies
NW Calgary - 11588 Sarcee Trail NW, Calgary, AB T3R 0A1

Red Deer - 162 Leva Ave, Red Deer, AB T4E 0A5

Regina - 2110 Anaquod Rd, Regina, SK S4V 3T7

Rocky View - 300-293020 CrossIron Common, Rocky View No. 44, AB T4A 0J6

S Calgary - 99 Heritage Gate SE, Calgary, AB, T2H 3A7

S Winnipeg - 2365 McGillivray Blvd, Winnipeg, MB R3Y 0A1

Sherwood Park - 2201 Broadmoor Blvd, Sherwood Park, AB T8H 2C1
Maritimes
Dartmouth - 137 Countryview Dr, Dartmouth, NS B3B 0E7

Halifax - 230 Chain Lake Dr, Halifax, NS B3S 1C5

Moncton - 140 Granite Dr, Moncton, NB E1H 2G9
Can't find your local Costco warehouse in the list? Give your warehouse a call and request Organika's Keto MCT Coconut Powder!
☎️