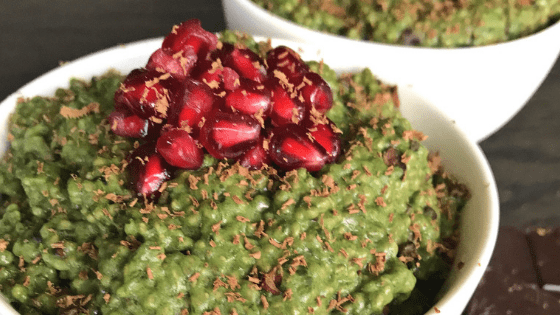 Recipes
Mint Chocolate Chip Chia Pudding
Dr. Tara Weir
We're getting festive with this green and red chia pudding! Chia pudding is an easy, make-ahead breakfast staple at our house. It's nutritious, delicious and versatile, and can literally be thrown together in just minutes the night before. Chia seeds have a mild nutty taste and are extremely nutrient-dense. They are rich in fibre, minerals, antioxidants, protein, and healthy fats.  A 2 Tbsp serving contains 4 grams of protein and 12 grams of carbohydrate, of which 11 grams are fibre!
Mint Chip Chia Pudding Recipe 
Ingredients for 4 small servings:
1 cup unsweetened almond or nut-free milk
1 cup canned organic full-fat coconut milk
2 to 3 cups raw baby spinach
1/4 cup Organika Enhanced Collagen (non-vegan) or natural vegan protein powder
1 tsp pure vanilla extract
1/2 tsp pure peppermint extract
Raw honey (non-vegan), pure stevia, or sweetener of choice to taste
1/2 cup white chia seeds
1/4 cup raw cacao nibs
Optional toppings: unsweetened toasted coconut, pomegranate arils, cacao nibs and/or grated dark chocolate
Directions:
Put almond milk, coconut milk, spinach, protein, vanilla, chlorella and peppermint extract into blender container and blend on high until well mixed.  Sweeten to taste.
Add chia seeds and cacao nibs and pulse blend until just combined.
Pour into bowl or single-serving mason jars and cover or seal tightly.
Let sit for 10 minutes, then whisk and cover or shake well and put in fridge overnight or for a minimum of 3 to 4 hours.
Mint Chip Chia Pudding can be stored in an airtight container in the fridge for up to 5 days.  Serve cold with your favourite toppings. Looking for more healthy recipes like this? Check out
Dr. Tara Sunshine here
 or head over to our
recipe page
Tara is an avid traveller, fitness enthusiast, and aspiring chef who endeavours to inspire others to experience the joy & richness of life.