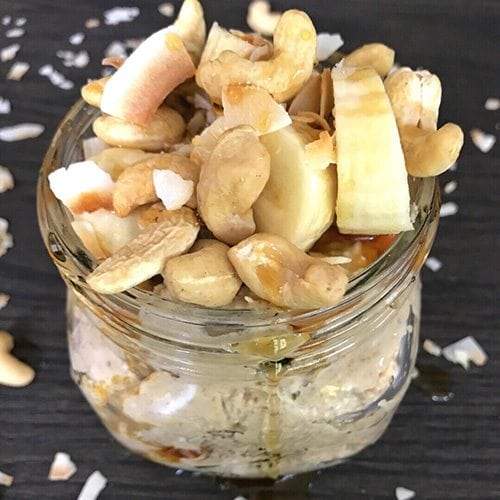 Eat + Drink
Salted Caramel Overnight Oats
The Organika Team
The photo here does not do these AMAZING gluten-free vegan oats justice!! They are packed with protein, fibre, healthy fats, and that awesome stress-busting, libido-boosting adaptogen, maca! Even better, this gooey caramel superfood-boosted porridge comes together in just minutes and soaks overnight so it's ready for a quick morning meal! That being said, it is also awesome heated-up if you are craving a warm brekkie. I usually prep a BIG bowl of these hearty oats for my family of 5. However, they can also be made in single-serving mason jars to grab & go.
Salted Caramel Overnight Oats
EASY | SERVES 5
Ingredients:
1/2 cup gluten-free rolled oats
1/2 cup canned organic full-fat coconut milk*
1/2 cup unsweetened cashew or almond milk
2 Tbsp unsweetened desiccated coconut
1 Tbsp cashew nut butter
1 Tbsp gluten-free flaxseed meal
1 Tbsp white chia seeds
1/2 to 1 scoop Organika Enhanced Collagen
1 tsp Organika Gelatinized Maca powder
1/2 tsp pure vanilla extract
1/8 to 1/4 tsp sea salt
sweetener as desired*
optional toppings: sliced banana, roasted unsalted cashews, toasted unsweetened coconut flakes, and a drizzle of pure maple syrup
*Notes: This recipe makes a wonderfully creamy and satisfying porridge. For a lighter option, use more cashew milk in place of the coconut milk. In terms of sweetener, I often use 1 to 2 finely diced pitted Medjool dates. Other good options include mashed ripe banana, a couple tsp raw honey (novegan), pure maple syrup, or
stevia
to taste.
Directions:
Put all of the ingredients in a bowl or single-serving mason jar(s) and stir well to combine.
Cover and refrigerate overnight (or for a minimum of 6 hours and maximum 4 days).
In the morning, these can be served chilled or heated as desired. Simply add toppings and enjoy!
By: Dr.
Tara Sunshine
(
@drtarasunshine
)
Tara is an avid traveller, fitness enthusiast, and aspiring chef who endeavours to inspire others to experience the joy & richness of life.