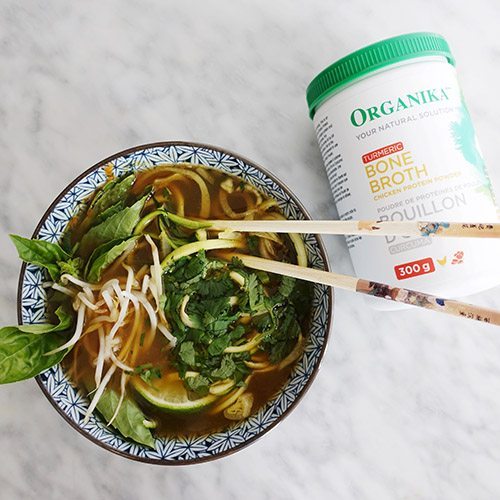 Make a healthy pho at home using Organika's bone broth protein powder as your base. This super simple recipe supports gut health and can also help to support the immune system. Not to mention it's downright tasty. Add your favourite herbs and hot sauce on top for a delicious and nutritious pho. You will need a big pot and a spiralizer. Read the full blog here!
Super Simple Pho
Ingredients
SOUP BROTH
6 cups water
3-4 tbsp Organika's Chicken Turmeric Bone Broth protein powder
2 onions peeled and sliced
4-5 whole carrots chopped up
3-4 cloves of garlic peeled and smashed
2-3 whole cinnamon sticks
2 tbsp Organika Organic Coconut Sauce
TOPPINGS
2-3 whole zucchini spiralized
1 cup bean sprouts
1/2 cup green onion chopped
1/2 cup cilantro chopped
1/2 cup Thai basil leaves
1/4 cup mint leaves
How-to
In a large stock pot, add in the water, Organika Bone Broth Protein Powder, onion, carrots, garlic cloves, cinnamon sticks and coconut aminos.
Bring the broth to a boil over medium-high heat. Reduce heat to medium-low and let broth simmer for 30 minutes.
Place zucchini into a spiralizer and spiralize into noodles. Set aside.
Strain the broth and discard the solids. Return the broth to the stove to keep warm.
In four soup bowls, prepare each serving by adding in zucchini noodles to the bottom. Top with Pho broth.
Top each bowl with desired amount of herbs, vegetables, sriracha and coconut aminos & enjoy!