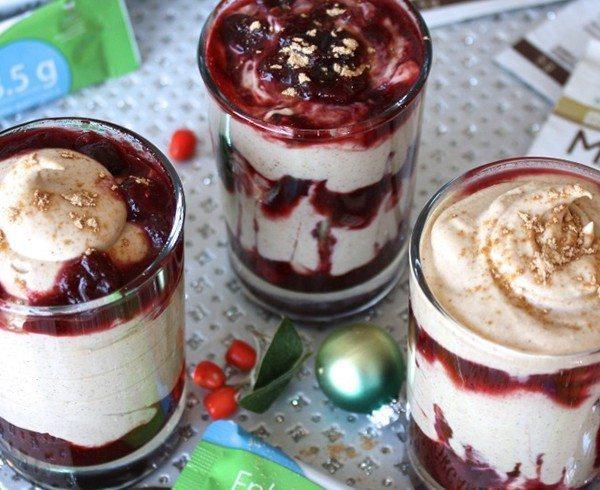 Cinnamon Maca Mousse
Easy | Makes 6 Serving
Ingredients
Mousse
2 1/2 cups full fat coconut milk
1 cup raw cashew pieces
4 tbps coconut nectar
3 tbps Collagen powder*
1 tbsp + 2 tsp Maca Powder
2 tsp cinnamon
1/3 cup + 2 tbsp melted coconut oil (Try Organika's Organic Virgin Coconut Oil)
  *Or sub bone broth powder. It's neutral enough in taste to work in this recipe
Cranberry Sauce
2 cups fresh or frozen cranberries
1/3 cup coconut sugar
1/4 water
Directions
Mousse
Blend the coconut milk, cashews, and nectar in a high speed blender until smooth. Add the remaining ingredients and blend again to incorporate. Pour into a large bowl and chill in the fridge (not the freezer) for at least 12 hours. Spoon or pipe into bowls/glasses.
Cranberry Sauce
Add all ingredients to a small pot. Bring to a bowl and then reduce the heat and simmer with the lid half on for 15 minutes until the cranberries break down and become saucey. Mash any that didn't break down. Add 1-2 tablespoons water if it is too thick.
Parfait Assembly
Layer the chilled mousse with the cooled cranberry sauce. Serve immediately or keep in the fridge for up to 3 days.
Check out the full blog post here!