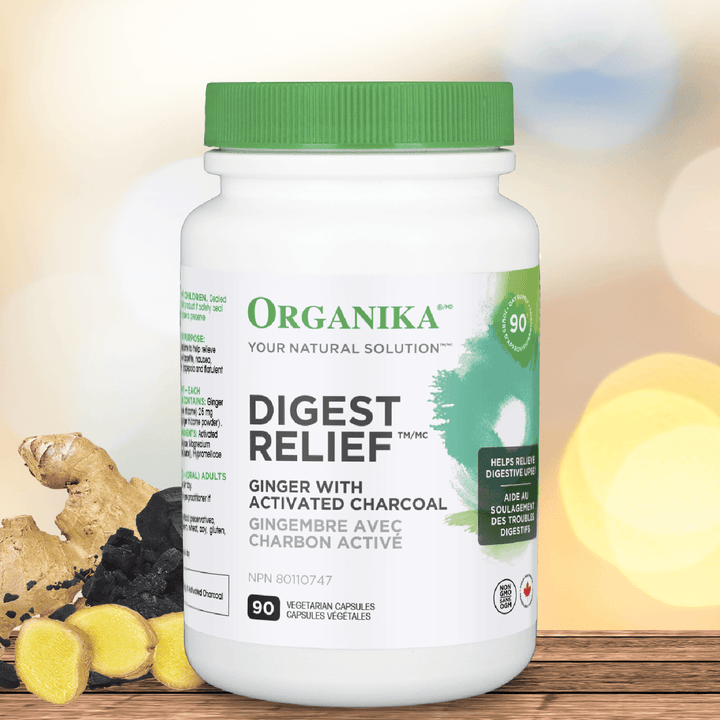 Introducing Digest Relief by Organika
with Ginger and Activated Charcoal
Ditch the digestive pain!  
Digestion issues can vary from an upset stomach, to lack of appetite, nausea, digestive spasms, and indigestion. Those that experience digestive issues know it can be extremely uncomfortable, and let's face it, who has time for that?  
Luckily, there is relief and a natural way to combat digestion issues carefully, effectively, and efficiently.  
Let's be honest, we all need this from time to time. 
Digest Relief to the rescue.
Organika has created Digest Relief which combines Ginger and Activated Charcoal. This formula is the sigh of relief your digestive tract will breathe and will love you for.  
It helps to alleviate the pain and discomfort that comes along with any digestive issues. The product is made free of preservatives, artificial sweeteners, colours or flavours, so there is nothing but goodness in a bottle.  
Let's break it down.  
Organika's® Digest Relief™ Ginger with Activated Charcoal is formulated with 25mg of Ginger 20:1 Extract and contains 250mg of Activated Charcoal. 
Why Ginger and Activated Charcoal?
Ginger has long been used in both traditional and alternative medicine as a digestive aid and to reduce nausea. It also has amazing anti-inflammatory and antioxidant effects, hence why you may also see it being used for the cold and flu. The main active compound in ginger, gingerol, helps to empty the stomach and this helps to alleviate indigestion and any stomach discomfort.  
Activated Charcoal has recently been popularized in masks and beauty products, but did you know that it's been used in traditional medicine for acute remedies related to digestion?  
First off, the charcoal is "activated" with oxygen which expands the charcoal so we can get to the carbon inside. To this, the nasty toxins bind to the charcoal, then get absorbed and get carried out of the body. The result is a toxin-free, clean, and healthy system. So, it makes sense that activated charcoal is great for indigestion, flatulence, bloating, and you guessed it... detox!  
Don't Let Digestion Get You Down Again
Beat your digestive issues, feel your best and get back to doing what you love daily. Digest Relief comes in convenient V-caps, so you can consume with water, for fast absorption and release. 
Suggested Use:  Pair with Probiotic + Prebiotic Powder which feeds the healthy bacteria in the gut. Clean and alleviate your digestive system with Digest Relief, while Probiotics + Prebiotics take care of the gut ongoing.