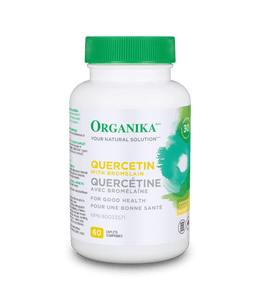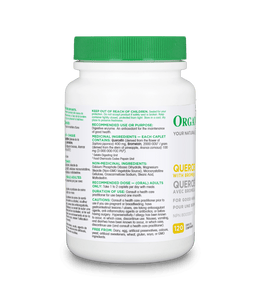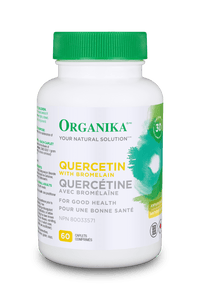 Non-GMO
Gluten-Free
Vegan-Friendly
Enhance Your Routine
Potent source of antioxidants
Reduces free radical damage to skin, tissue and organs
Seasonal allergy relief
Studied for its antiviral, antioxidant, antihistamine and anti-inflammatory properties
Includes the naturally-occurring enzyme bromelain, which helps to decrease inflammation
Organika features the unique combination of quercetin and bromelain – two key ingredients that work synergistically together.

Quercetin functions on an antioxidant level to reduce damage and irritation caused by free radicals while suppressing your histamine response – the body's reaction to allergens. Bromelain functions on an enzymatic and protein level by limiting the action of metabolites and neutrophils in the inflammatory process. It also assists in increasing your body's absorption and utilization of quercetin, which makes this combination so effective.

Quercetin, a bioflavonoid widely found in plant foods and particularly high in red onions and kale, has been studied particularly for its antiviral properties. It's also essential for vitamin C absorption. It acts as an antioxidant, an antihistamine and an anti-inflammatory.

When the body comes in contact with an allergen, the immune system responds. Mast cells, a type of immune cell, release histamine and other immune substances. This can cause allergic symptoms such as runny nose and itchy, watery eyes. Quercetin stabilizes the membranes of these mast cells, decreasing the allergic symptoms.

Bromelain is a naturally-occurring enzyme found in the stem of pineapples. In addition to being used as a protein digestive aid, the enzymes in bromelain inhibit inflammatory chemicals called prostaglandins. Bromelain has been shown to decrease inflammation in conditions such as arthritis and sinusitis. As well, bromelain, when in combination with quercetin, helps to improve its absorption.
Customer Reviews
Write a Review
Ask a Question
10/24/2023
Luna T.

Canada
I recommend this product
Good product
Best supplement to take for this time of year
08/02/2023
MARCIA C.

Canada
I recommend this product
Relief of itchy eyes
Love the relief of allergy symptoms!!
06/06/2023
Elle

Canada
I recommend this product
Really difficult to swallow
I'm sure the quality is great, but I had to try 4-5 times to swallow one because the texture is so dry. I thought they were capsules but I was didn't notice they're 'caplets'
01/10/2023
tanya M.

CA
A powerful antioxidant!!!
A powerful antioxidant!!!
09/08/2022
Nathalie

CA
Couleur comprimés
Bonjour, j'aimerai savoir si vous avez changé la couleur du comprimé? Avant il était presque vert fluorescent et maintenant il est vert presque kaki. Es-ce normal ?
Bonjour, Notre spécification pour la matière première est une poudre jaune verdâtre qui répond aux exigences. Le produit fini peut avoir une couleur verdâtre sans aucun problème de sécurité ou de qualité. La différence est due à la variation de couleur et le produit a passé avec succès les tests de laboratoire tiers et peut être pris en toute sécurité en cas de problème. Merci!- Stephanie CX team
These Products Might Be Great For You Too
NAC (N-Acetyl-L-Cysteine)
Regular price

From

$27.99
Amino Acid for L-glutathione Replenishment
2 sizes available
Colostrum (Bovine)
Regular price

From

$36.49
Grass-Fed Bovine Colostrum Capsules
2 sizes available