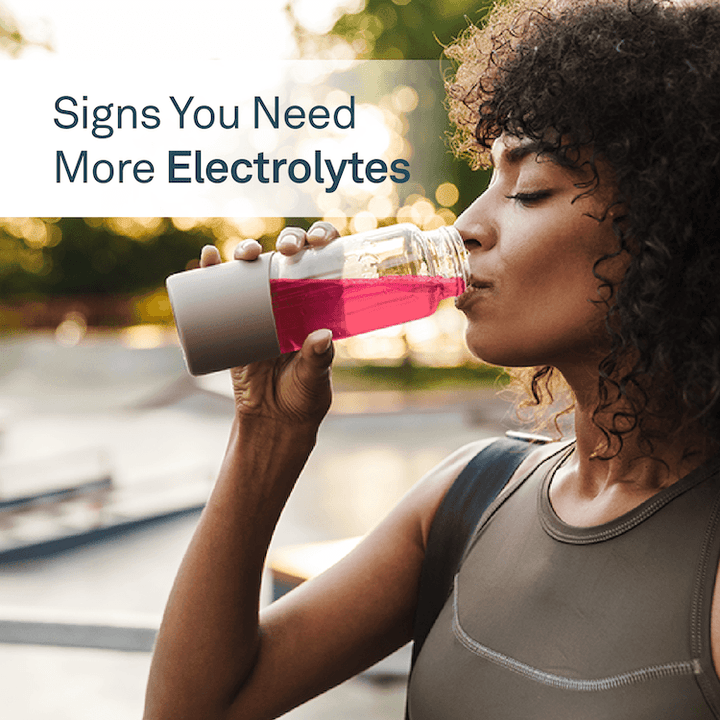 Check the list to ensure you're well hydrated every day.
Facts are facts, your body needs electrolytes to be properly hydrated.

It's the balance of fluid inside and outside your cells that defines if you are hydrated enough. This fluid balance is thanks to trace minerals that conduct electrical charges... minerals called electrolytes.
What do you need to know about electrolytes?
Electrolytes are important for overall health and well-being, and you need them daily.
Drinking fluids that contain electrolytes can help replenish lost fluids and prevent dehydration, helping improve many functions in your body including things like:
Nerve signalling
Muscle contraction
Digestion and metabolism
Skin health
Eliminating wastes
And more
Some electrolytes, such as potassium and magnesium, play a role in promoting healthy skin. For example, potassium may help regulate blood flow and oxygenation to the skin, while magnesium may help support collagen synthesis and prevent skin aging.
How do you know if you are lacking electrolytes?
There are several signs that you may not have enough electrolytes in your body, but here are some telltale signs you should look out for:
Muscle cramps: since electrolytes help regulate muscle function, an imbalance can cause muscle cramps or spasms.
Fatigue: electrolytes are involved in energy production and can help combat fatigue, therefore a lack of them can lead to decreased energy levels.
Headaches: electrolyte imbalances can cause headaches or migraines, especially if dehydration is a factor.
Nausea and vomiting: sometime an imbalance of electrolytes can lead to digestive issues, including nausea and vomiting; sometimes a side effect of headaches as well.
Dizziness: Electrolytes help regulate blood pressure, and an imbalance can lead to lightheadedness.
Weakness: Electrolytes are important for muscle strength, and when low in these key minerals, you can feel some weakness or decreased physical performance (ask any athlete).
Urine colour is clear: if your urine is completely clear, like water... it means that you probably don't have the balance of minerals your body is striving for. Your urine should be slightly yellow, like champagne or lemonade.
Irregular heartbeat: Electrolyte imbalances can affect heart function and cause irregular heartbeats or palpitations... in this case it's important to seek medical attention immediately.
Replenishing your electrolytes by adding them into your water is an easy way to improve your hydration daily.
TIP: Add electrolytes to your water and drink it down before you start your day, see the difference it makes!