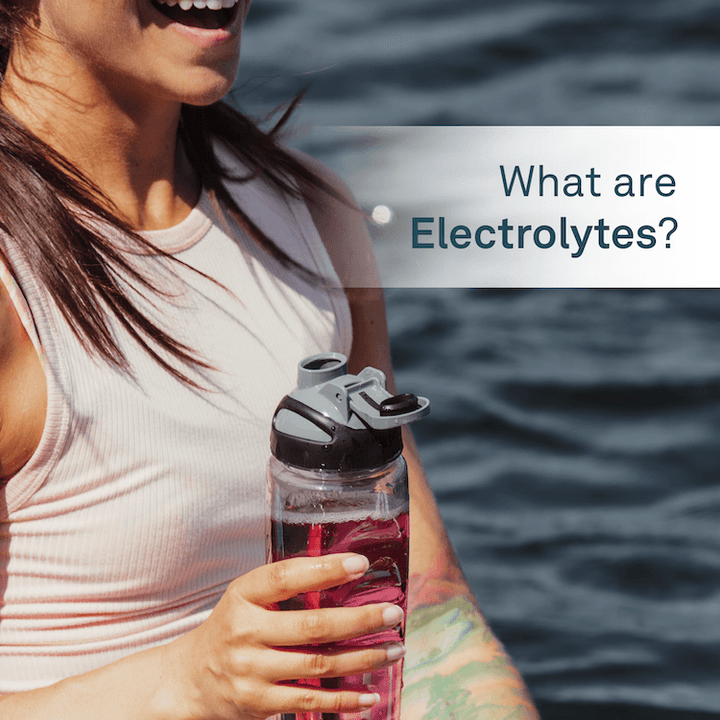 Q&A
What Are Electrolytes?
Organika Health
Find out more about the minerals that your body needs on a daily basis.
You need electrolytes daily.
But what are they?
Electrolytes are minerals (like sodium, potassium, chloride, calcium and magnesium) that conduct an electrical charge when mixed with water.
These electrolytes are essential to the body, and because they conduct an electrical charge are also referred to as salts. Yes, your body needs salt for several reasons.
Role of electrolytes in your body
The basic function of electrolytes is to regulate the flow of fluid and salts inside and outside of your cells. This is key to ensure you are well hydrated. Water alone doesn't contain nutrients, so you may be deficient in helping your body send key signals and impulses if you're not providing your body with key essential minerals.
Electrolytes:
help regulate a variety of your body's most essential functions, including sending signals throughout your body's nervous system
help maintain a balanced pH and temperature so that your cells and organs are functioning optimally
support the digestive system through opening and closing of channels that need an ionic balance
help your muscles contract and avoid cramping during activity
control the constant impulses in your body to keep your heart beating, lungs breathing and brain functioning optimally
supports your immunity and return to health after being ill
You cannot have hydration without electrolytes
Hydration = Water + Electrolytes
When you sweat, urinate, or experience diarrhea, you lose electrolytes along with fluid, which can lead to dehydration and other health problems. Therefore, you're losing electrolytes daily and should replace them daily.
While water is essential for staying hydrated, it does not contain significant amounts of electrolytes. Therefore, if you engage in intense physical activity or live in a hot and humid climate, simply drinking water may not be enough to replenish the electrolytes you lose through sweat. Without a balance of electrolytes and water, you can find yourself dehydrated. 
How to choose the right electrolytes...
Electrolyte-rich beverages, such as sports drinks or coconut water, can provide the necessary minerals to help restore your electrolyte balance and prevent dehydration. However, it's important to be mindful of the added sugars and calories in some sports drinks and to choose lower-sugar options. Or you can make your own electrolyte drink using natural ingredients like fruit juice, honey, and salt.
Organika's Electrolytes powder provide the essential minerals you need to replenish your body daily, without caffeine and without any sugar. What's even better is that this formula is gentle for everyday use.
Want more from your electrolytes?
Electrolytes Defence - Essential electrolytes coupled with immune boosting ingredients: zinc, elderberry and echinacea
Electrolytes + Enhanced Collagen - Essential electrolytes coupled with Canada's #1 Collagen Powder† for stronger joints, healthier hair, skin, and nails
In summary, while water is essential for hydration, electrolytes are important for maintaining fluid balance and supporting various bodily functions.