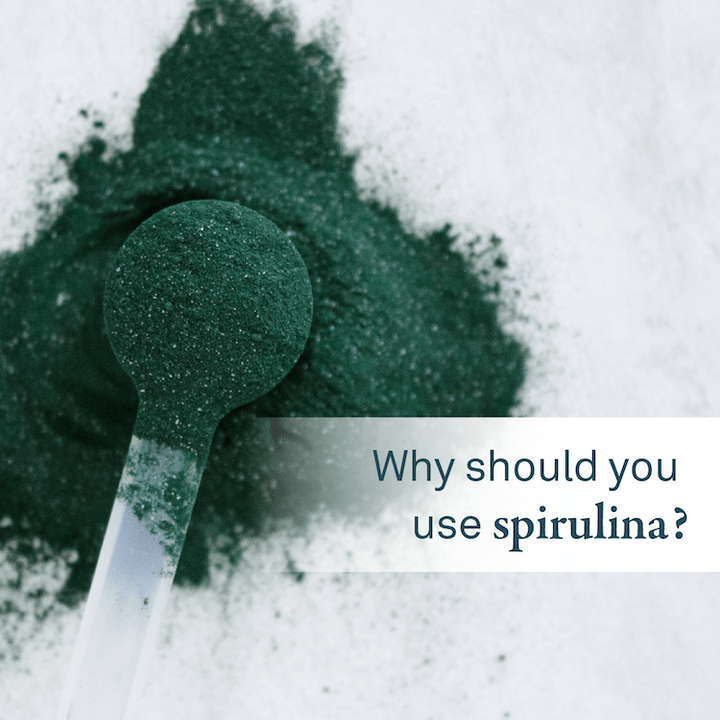 Q&A
Why should you use spirulina?
Trista Chan
The blue-green superfood has so many benefits for your skin and health.
In 1974, the World Health Organization declared a type of algae as the "best food for the future" to combat malnutrition.
Can you guess what it is? Spirulina.
Spirulina is a powerhouse that has a wealth of health benefits - it supports your body's natural detoxification pathways, aids in red blood cell production, is packed with antioxidants with anti-inflammatory benefits, and is an excellent source of iron and protein. 
Why I use spirulina
Personally, I'm a big fan. You'll find spirulina in my list of go-to smoothie ingredients along with nutrient-packed foods.
Why?
Packed with iron and protein
Spirulina is highly concentrated in bioavailable iron and is one of the densest plant-based proteins in the world that contain all nine essential amino acids. One tablespoon (2g) of spirulina contains 4g of protein and 2mg of iron. Per gram, that is quite packed.
This is a personal priority, since my monthly menstrual cycle, vigorous exercise and plant-centric diet put me at a higher risk for iron and protein deficiency. Spirulina is a convenient and tasty way to aid in red blood cell production and support muscle repair post-exercise.
And when I recommend spirulina on top of a balanced diet to my clients, I can rest assured they're receiving excellent nutritional benefits with just one small tweak. So much nutritional value for such a small yet mighty addition.
Spirulina packs in antioxidants with anti-inflammatory benefits
Phycocyanin is the main active compound in spirulina. Fun fact - it gives spirulina its blue green colour. Beyond that, it's an incredibly potent antioxidant with anti-inflammatory properties. Phycocyanin reduces oxidative stress in your cells, by blocking out molecules that promote inflammation.
Spirulina also has high amounts of naturally occurring chlorophyll
Chlorophyll can help support the body's natural detoxification pathways, namely through the liver. In fact, studies have linked chlorophyll to reduced incidence of liver cancer, and spirulina to improvements in fatty liver disease.
Spirulina helps build a strong immunity
Think of our immune system as an orchestra - it's a complex network of systems, with each organ playing a specific role. They come together to produce a beautiful, strong symphony - the result is a strong body resistant to viruses and bacteria.
Protein, iron, and antioxidants - these three nutrients in spirulina are powerhouses that work together to maintain a strong immunity.
Furthermore, studies have found that the phycocyanins in spirulina help boost production of white blood cells and antibodies that help to fight viruses in your body.
Spirulina helps reduce risk for chronic disease
For those suffering from environmental allergies - good news: spirulina is shown in clinical studies to reduce symptoms of allergic rhinitis.
For heart health, clinical studies have shown that 1-8g of spirulina daily can help reduce blood pressure.
Another review found spirulina supplementation may help reduce fasting blood sugar levels in people with Type 2 diabetes.
How to use spirulina
You can take spirulina in tablet or powder form - whichever you prefer.
If you like powder, Organika has a new super tasty option for you - they have taken the #1 Spirulina brand and fortified it with the power of B12, an essential vitamin needed for healthy blood cells and metabolism. 
Taste fruity tropical flavours while your cells rejuvenate and your whole health improves. 
Here's some ways you can enjoy it:
Add it to smoothies, mix into oatmeal, congee or porridge
Prefer a hot beverage? Add it to your lattes or mix into teas.
Salad dressings and green pasta sauces
Mix it into homemade energy balls
Enjoy!
References:
Cingi C, Conk-Dalay M, Cakli H, Bal C. The effects of spirulina on allergic rhinitis. Eur Arch Otorhinolaryngol. 2008 Oct;265(10):1219-23. doi: 10.1007/s00405-008-0642-8. Epub 2008 Mar 15. PMID: 18343939.
Ferreira-Hermosillo A, Torres-Duran PV, Juarez-Oropeza MA. Hepatoprotective effects of Spirulina maxima in patients with non-alcoholic fatty liver disease: a case series. J Med Case Rep. 2010 Apr 7;4:103. doi: 10.1186/1752-1947-4-103. PMID: 20370930; PMCID: PMC2861069.
Finamore A, Palmery M, Bensehaila S, Peluso I. Antioxidant, Immunomodulating, and Microbial-Modulating Activities of the Sustainable and Ecofriendly Spirulina. Oxid Med Cell Longev. 2017;2017:3247528. doi: 10.1155/2017/3247528. Epub 2017 Jan 15. PMID: 28182098; PMCID: PMC5274660.
Fooddata Central Search Results. FoodData Central. (n.d.). https://fdc.nal.usda.gov/fdc-app.html#/food-details/170495/nutrients
García JL, de Vicente M, Galán B. Microalgae, old sustainable food and fashion nutraceuticals. Microb Biotechnol. 2017 Sep;10(5):1017-1024. doi: 10.1111/1751-7915.12800. Epub 2017 Aug 15. PMID: 28809450; PMCID: PMC5609256.
Grover P, Bhatnagar A, Kumari N, Narayan Bhatt A, Kumar Nishad D, Purkayastha J. C-Phycocyanin-a novel protein from Spirulina platensis- In vivo toxicity, antioxidant and immunomodulatory studies. Saudi J Biol Sci. 2021 Mar;28(3):1853-1859. doi: 10.1016/j.sjbs.2020.12.037. Epub 2020 Dec 30. PMID: 33732072; PMCID: PMC7938138.
Hatami E, Ghalishourani SS, Najafgholizadeh A, Pourmasoumi M, Hadi A, Clark CCT, Assaroudi M, Salehi-Sahlabadi A, Joukar F, Mansour-Ghanaei F. The effect of spirulina on type 2 diabetes: a systematic review and meta-analysis. J Diabetes Metab Disord. 2021 Mar 2;20(1):883-892. doi: 10.1007/s40200-021-00760-z. PMID: 34178867; PMCID: PMC8212345.
Machowiec P, Ręka G, Maksymowicz M, Piecewicz-Szczęsna H, Smoleń A. Effect of Spirulina Supplementation on Systolic and Diastolic Blood Pressure: Systematic Review and Meta-Analysis of Randomized Controlled Trials. Nutrients. 2021 Aug 31;13(9):3054. doi: 10.3390/nu13093054. PMID: 34578932; PMCID: PMC8468496.
Mazokopakis EE, Papadomanolaki MG, Fousteris AA, Kotsiris DA, Lampadakis IM, Ganotakis ES. The hepatoprotective and hypolipidemic effects of Spirulina (Arthrospira platensis) supplementation in a Cretan population with non-alcoholic fatty liver disease: a prospective pilot study. Ann Gastroenterol. 2014;27(4):387-394. PMID: 25331487; PMCID: PMC4188938.
Naeini F, Zarezadeh M, Mohiti S, Tutunchi H, Ebrahimi Mamaghani M, Ostadrahimi A. Spirulina supplementation as an adjuvant therapy in enhancement of antioxidant capacity: A systematic review and meta-analysis of controlled clinical trials. Int J Clin Pract. 2021 Oct;75(10):e14618. doi: 10.1111/ijcp.14618. Epub 2021 Aug 4. PMID: 34235823.
Nourollahian M, Rasoulian B, Gafari A, Anoushiravani M, Jabari F, Bakhshaee M. Clinical comparison of the efficacy of spirulina platensis and cetirizine for treatment of allergic rhinitis. Acta Otorhinolaryngol Ital. 2020 Jun;40(3):224-229. doi: 10.14639/0392-100X-N0139. PMID: 32773785; PMCID: PMC7416373.
Sayin I, Cingi C, Oghan F, Baykal B, Ulusoy S. Complementary therapies in allergic rhinitis. ISRN Allergy. 2013 Nov 13;2013:938751. doi: 10.1155/2013/938751. PMID: 24324897; PMCID: PMC3845706.