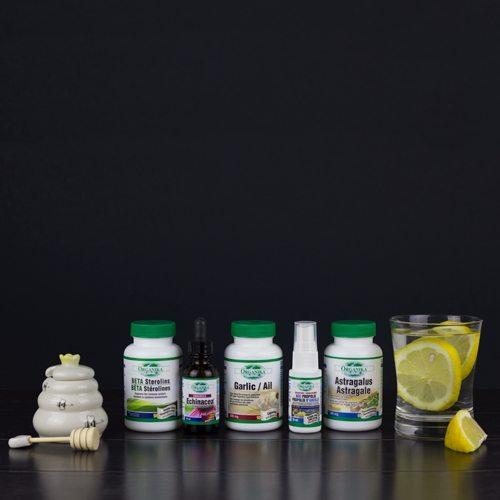 Try these immune booster supplements this cold and flu season
If cold and flu season is usually rough for you, you might want to consider some immune booster supplements to get you through. They can help to strengthen your immune system, and fight the symptoms that creep up on you unexpectedly like that mysterious sore throat that appeared overnight. Here are our top five supplement picks for immunity:
1. Echinacea
It's a pretty purple flower with some mega-powerful immune boosting power. Echinacea contains polysaccharides known for boosting immune health and supporting the respiratory tract. It's natural support for cold relief targeting infections, while reducing the duration of a cold so you can get back to your life.
2. Beta Sterolins
Beta sterolins are a source of phytosterols that have immunomodulatory effects. Easy to take on the go, they're chewable to help start supporting your immune system fast.
3. Bee Propolis
Bee Propolis
is a resin collected from the hive. It's a tacky substance packed with antioxidant power and anti-microbial benefits. For the bees, it helps to protect the integrity of the hive, filling cracks like caulking, and resisting invaders and infection. Bee Propolis can be taken as a tincture, capsules or in a spray. It's absolute magic when it comes to dealing with throat or oral infections. That's everything from a scratchy throat to cold sores.
4. Garlic
Garlic is one powerful plant. Containing the compound allicin which packs an anti-bacterial punch, it's basically nature's antibiotic. In herbal medicine its used to relieve symptoms associated with respiratory infections.
5. Astragalus Root
This powerful root helps to support healthy immune function to help protect against infections and prevent colds. Studies have shown astragalus to have anti-viral properties and stimulates the immune system. The dried root is used medicinally and can be taken in supplemental form, or steeped as a tea.
What are your go-to remedies for cold and flu season?