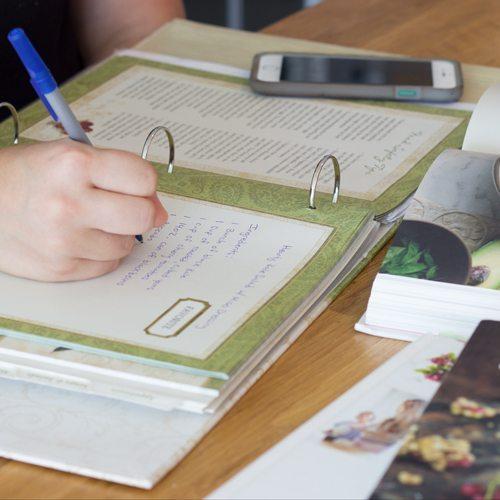 Eat + Drink
7 Steps to Successful Meal Planning
Organika Health Products
A beginners guide to healthy meal planning
Summer is over and a new school year is set to begin. It's time to get back into a steady routine. Whether you're in need of grab and go breakfast recipes, back to school lunch ideas, or quick and easy family dinners, meal planning is a great place to start. Meal planning for the week can help you and your family eat healthy and nourishing meals, all while making your life easier through those busy weekdays. Check out my top 7 steps to successful meal planning to get you started.
7 Steps to Successful Meal Planning
1. Choose Recipes Wisely
When you're sitting down to plan the recipes you'll make for your week, you'll want to consider a few things, to ensure you enjoy them to the fullest:
Your Food Cravings and Mood:
If you've been dreaming of Mediterranean cuisine, you should probably incorporate a Greek pasta salad into your menu this week.
The Weather:
Rainy days call for soup. You likely won't want to eat a lot of raw foods if it's cold out.
Your Schedule:
How much time do you have for prepping? Keep it simple by choosing quick and easy recipes if you have a busier than normal schedule.
Kitchen Space:
Choosing recipes according to your kitchen space can help keep your meal planning efficient. Try choosing one oven recipe, one stovetop recipe, and some that require no heat. Whether or not you have re-heating methods available to you at work may also influence your recipe choices. The number of recipes I choose depends on the number of portions of food I will be require for that week. I generally meal prep for two people, my fiancé and myself. This means if I am preparing breakfast, lunch and dinner (3 meals) for 5 days a week, I will need 30 portions of food between the two of us. Knowing this, I choose just enough recipes to provide the right number of portions while offering some variety throughout the week. On top of this I like to make 2-3 snack recipes and pack them individually to grab and throw into our lunch bags to keep us satiated through the day.
2. Make a Shopping List
Write a shopping list based on the ingredients in each recipe you've selected. You will spend less time wandering aimlessly through the aisles of the grocery store, and you won't become stressed out by realizing a key ingredient is missing when you get home. I like to organize my grocery lists by the section of the store I would find each item. I keep this list in my phone so I can remove items as I put them in the cart.
3. Plan for Leftovers
You don't have to cook 10 recipes if you are prepping for 10 meals. One-pot and casserole recipes for dinner are great for leftovers, because they often make many portions with no added effort. You can have the leftovers for dinner later in the week or take them to work for lunch. You can even make a double batch to keep in the freezer. Your future self will thank you.
4. Get Your Snack On
It's great to plan for healthy meals all week, but if you forget to prep healthy snacks, you could find yourself hungry between meals and eyeing those chips in the vending machine. The times I let myself get too hungry is when I tend to fall off the healthy eating wagon. Making sure to prep healthy snacks for the week is especially important if you are meal planning to improve your health. Avoid processed junk food by making energy bites, protein bars, muffins and prepping some raw veggies, cut up fruit and a homemade dip for the week.
5. Start a Recipe Collection
Keep an archive of your favorite recipes. I tend to go through phases of loving a certain recipe and eating it every day, then forgetting about it for a few months. Whether you're printing them out and starting your own recipe book or pinning them to your virtual board, documenting your favorite recipes will save you from those weeks you are feeling uninspired or overwhelmed by the thought of meal planning. Take a look at your tried-and-true recipe list and you might even re-discover some forgotten gems!
6. Keep it Fun
If you are spending a few hours a week prepping meals you might as well enjoy it. Play your favorite kitchen dance party songs to set the mood. If you're worried about giving up precious family time while you're stuck in the kitchen, get everyone on board and make it a family event! Getting children involved is a great way to educate them on the basics of healthy eating and cooking skills. Kids being hands-on in the kitchen can also increase their willingness to try new things.
7. Save Money
Making a grocery list ahead of time not only makes your shopping quick and easy but allows you to check if there are any ingredients you may already have in your fridge or pantry to prevent double buying ingredients. You may also want to look for ingredients that can easily be substituted for items you already have. Does your recipe call for maple syrup? You likely already have some honey you can use instead! Try choosing recipes using items you have. Take a look in your veggie drawer to see what items are nearing their end. What recipes might you be able to throw them into? Soups or salads are a great home for forgotten veggies as they are easily improvised. Another great way to make your meal planning cost effective is to implement more plant based recipes. Try out some vegan or vegetarian recipes throughout the week. Legumes are generally inexpensive, plus they're a great source of protein when paired with a complementary grain.
To give you an idea of what your meal prepping week will look like, I have shared an example of my own meal planner and included some great recipes for you to try out!  
Weekly Meal Planner:
| | Monday | Tuesday | Wednesday | Thursday | Friday |
| --- | --- | --- | --- | --- | --- |
| Breakfast | | | | | |
| Lunch | | | | | |
| Dinner | | | | | |
| Snacks | | Fruit, Hummus | | Hummus, Fruit | |
---
Recipes for Meal Planning
Wild ginger salmon with bok choy and brown rice
Ingredients:
2 pieces of wild salmon
1 lb organic baby bok choy, washed
1 cup organic brown rice
1 inch organic fresh ginger, finely grated
2 organic garlic cloves, minced
1/2 cup Organika's organic Coconut Sauce
2 tbsp organic honey
1 tbsp organic sesame seeds
1 tbsp organic extra virgin olive oil
1/2 tsp organic sesame oil
Directions:
Cook brown rice according to the package instructions and set aside.
Preheat oven to 350 degrees.
To make the glaze:
In a bowl, mix ¼ C Coconut Sauce, grated ginger and 1 Tbsp honey.
Place the salmon on an aluminum lined baking sheet and brush with the glaze.
Place salmon in the oven for 15-20 minutes or until salmon is flakey.
In a pan, heat olive oil and sauté garlic until fragrant, add the bok choy, ¼ cup of tamari, sesame oil and remaining honey. Cook for 3 minutes or until bok choy is tender.
Serve bok choy and salmon over a bed of rice.
Coconut Lentil Curry with Quinoa
Ingredients:
1 tbsp organic coconut oil
1 organic onion, finely chopped
2 organic garlic cloves, minced
1 tbsp organic curry powder
1 cup organic dried red lentils (buy sprouted to reduce cook time and improve digestion)
1 inch organic fresh ginger, grated
1/2 cup organic coconut milk
3 1/2 cups low sodium vegetable stock
2 handfuls of organic baby spinach
1/2 cup organic fresh cilantro, chopped
Directions:
Heat oil in a saucepan over a medium heat. Cook onion until tender. Add garlic and dry spices. Stir to combine.
Add lentils, ginger, coconut milk and vegetable stock. Bring to a boil and reduce heat to low.
Simmer, partially covered, for 30 minutes or until lentils have softened.
Cook uncovered for another 20 minutes or until desired thickness.
Serve on quinoa, and top with cilantro.
Hearty Kale Salad with Miso Dressing
Ingredients:
1 bunch of organic black (dino) kale, stems removed
2 cups organic yams, cubed
1 cup organic cherry tomatoes
1 14 oz. can of organic black beans (BPA free), rinsed
1 organic avocado, sliced
1 handful of organic sprouts
Directions:
Cube yams and roast until golden in the oven. Set aside to cool.
Wash and remove the stems of the kale. Pat dry and chop into bite size pieces. Place in a bowl and massage with your hands to help soften the kale.
Add the roasted yams, tomatoes, black beans to your bowl of massaged kale.
Combine and place in portioned containers. Top with sliced avocado and sprouts.
Pack dressing in separate containers.
Miso Dressing:
Ingredients:
2 tbsp organic miso
Juice of 1 organic lemon
4 tbsp organic tahini
1 tbsp organic tamari sauce
1 inch organic fresh ginger
2 cloves organic garlic
1/4 cup water
Directions:
Place in a blender and blend until smooth.  
Mediterranean Pasta Salad
Ingredients:
1 package of gluten free brown rice noodle spirals, cooked and rinsed under cold water
1 can organic cannellini beans (BPA free), rinsed
1 organic green pepper, chopped
1/2 an organic red onion, diced
1/3 cup organic pitted olives, sliced
3 organic baby cucumbers, diced
1 cup of organic grape tomatoes cut in half
Optional: organic feta cheese
Dressing:
1/2 cup of organic fresh lemon juice
1/2 cup organic extra virgin olive oil
1 tbsp Italian seasoning
Directions:
Place all ingredients in a bowl and toss to combine.
Place into individual glass containers and top with crumbled feta cheese if desired.
Store the dressing separately.