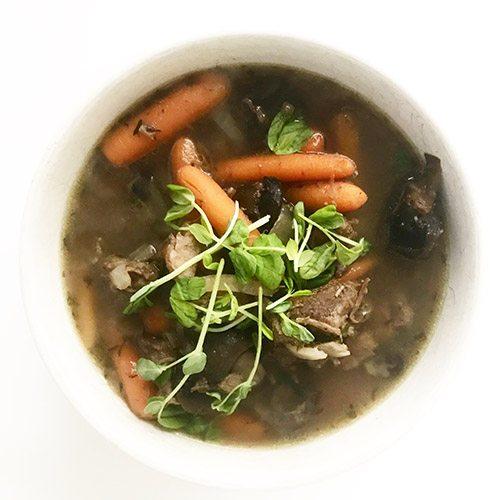 Eat + Drink
AIP Slow Cooker Beef Stew
Megan O'Kelly CNP
Taking on the AIP diet isn't always easy, but we've got a recipe for you from Megan O'Kelly that will help you during your journey! Check out her AIP Slow Cooker Beef Stew recipe!
AIP SLOW COOKER BEEF STEW
MAKES: 6 servings |
TIME: 4 hours
Ingredients:
2 tbsp Extra Virgin Olive Oil
32 oz Grass-Fed Stewing Beef (sliced into bite-sized pieces)
¼ cup Red Wine Vinegar
2 cups Baby Carrots
1 Sweet Onion (diced)
2 ½ cups Mushrooms (sliced
1 cup water
2 tbsp Organika's Beef Bone Broth
½ tsp Dried Thyme
1 tsp Sea Salt
Directions:
Add all ingredients to the slow cooker and mix well.
Cover and let cook on low for 4-6 hours, or until beef is tender.
Distribute evenly into bowls or pour the extra into mason jars and freeze until ready to enjoy!
Find an AIP coach near you on
this database
or contact me, Megan O'Kelly
(CNP), The Realistic Holistic, at info@therealisticholistic.com to see if I am the right nutritionist to help you through your autoimmune journey!