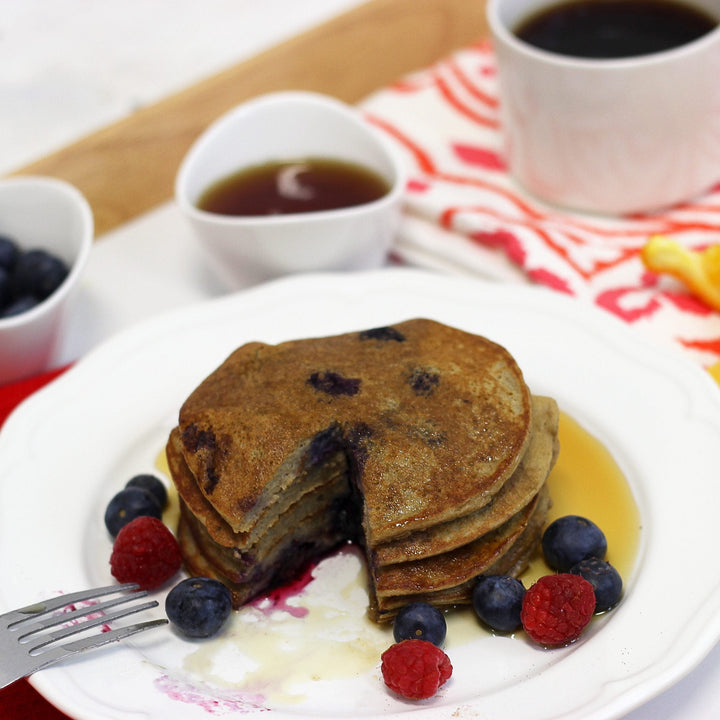 Eat + Drink
Mother's Day Banana Oatmeal Protein Pancake Recipe
Organika Health Products
Treat your mom to breakfast in bed with our tasty protein pancake recipe
How many times can you recall cancelling plans because you were too tired, ordering take-out because you didn't feel like cooking, or perhaps putting off chores because you were having a lazy day? We have all been there. Moms however, don't have that luxury. They raise us, nourish us, teach us, and love us alongside all their other jobs. What's even more amazing is that they do it all even when they're feeling exhausted, stressed or overwhelmed. Moms are pretty amazing, and this weekend is all about celebrating them! Surprise your mom with breakfast in bed this mother's day. These pancakes are easy to prepare and delicious to eat. Even better, they're healthy! This protein pancake recipe promises to leave you and your family feeling energized and ready to start the day. We love using
Vege-Pro® Plant Based Protein
in vanilla for this recipe. It's an easily digestible blend of organic sprouted brown rice protein, organic hemp protein and 8 different medicinal mushrooms. It provides a mild vanilla flavour with just a hint of sweetness from stevia.
Banana Oatmeal Protein Pancake Recipe
Makes 6-8 pancakes
Ingredients:
1/4 cup oat flour*
2 Tbsp Organika's Enhanced Collagen Powder (Original)
2 bananas
2 eggs
3 tbsp almond milk
1 tsp of baking powder
Optional: blueberries
Directions:
Combine bananas, almond milk and eggs in a blender or food processor, and blend until well combined.
Add oat flour, baking powder, and Enhanced Collagen Powder, blending until smoothly mixed. (Optional: stir blueberries into mixture)
Pour batter on to a lightly oiled pan and cook on low to medium high temperature, flipping once.
Serve with fruit, or maple syrup!
*You can make your own oat flour by grinding rolled or steel cut oats in your blender *Look for gluten free oats to make this recipe gluten free.