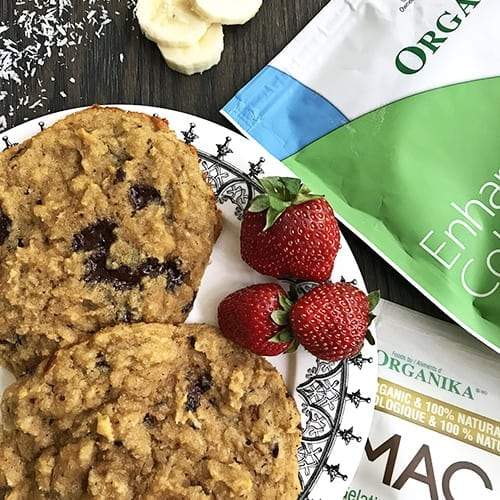 Eat + Drink
Banana Paleo Protein Cookies
The Organika Team
These banana & coconut breakfast cookies are wonderfully soft and chewy and super easy to make.  Better still, they're free of nuts, dairy, grain & refined sugar but packed with fibre, healthy fats, protein, and adaptogens, too!
I enjoy these cookies with little or no coconut sugar and 100% cacao pieces.  However, if you have more of a sweet tooth, you can increase the coconut sugar and use chocolate chips. 
BANANA PALEO PROTEIN COOKIES
EASY | SERVES 6-8 Large cookies; 10-12 small cookies
Ingredients:
2 eggs
1/4 cup coconut oil, melted
2 Tbsp coconut sugar (optional; increase to 1/4 cup if prefer sweeter cookies)
1 Tbsp Organika Health Gelatinized Maca (optional)
1 tsp pure vanilla extract
pinch salt
2 large ripe bananas, mashed
1/2 cup Organika Health Enhanced Collagen
1/2 cup coconut flour
1/4 cup unsweetened desiccated coconut
1/2 tsp baking soda
Optional: 1/4 cup diced dark chocolate bar or dark chocolate chips
Directions:
Preheat oven to 350F and line a cookie sheet with parchment.
In a medium bowl, beat together banana, eggs, coconut oil, coconut sugar, vanilla and salt.
Add collagen, coconut flour, desiccated coconut, and baking soda and mix well.  Stir-in chocolate pieces.
Scoop spoonfuls onto prepared cookie sheet.
Bake at 350F for 15 to 20 minutes or until starting to brown.
Enjoy warm or chill before serving.
Banana Protein Cookies can be stored in an air-tight container in the fridge for 4 days or frozen for up to 2 months.
  By: Dr.
Tara Sunshine
(
@drtarasunshine
)
Tara is an avid traveller, fitness enthusiast, and aspiring chef who endeavours to inspire others to experience the joy & richness of life.