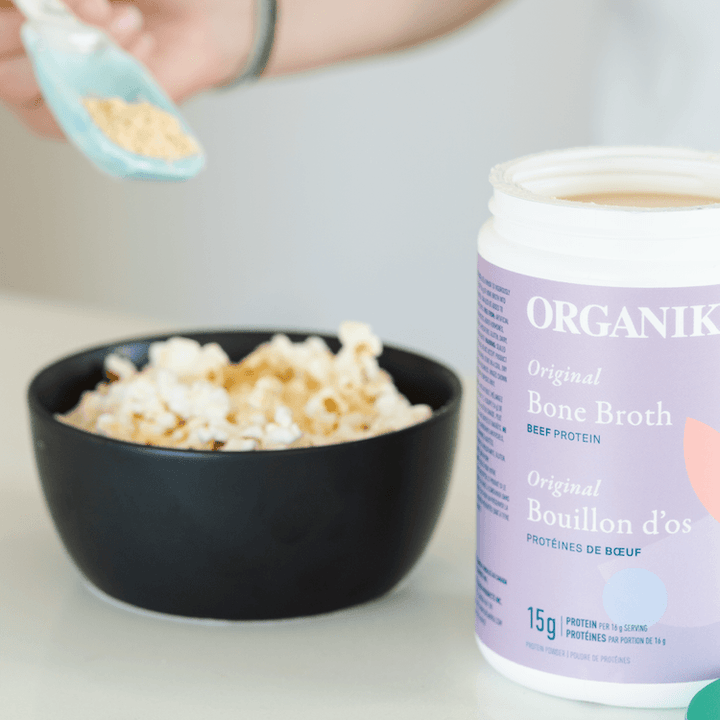 recipes
Bone Broth Popcorn
Organika Health
Elevate your popcorn with bursts of flavour and protein!
Trust us, it's delicious!
Elevate your popcorn beyond butter, with a burst of flavour and protein! When you think of popcorn toppers, bone broth is perfect. It has a savoury flavour that goes perfectly with a touch of salt, making it a beautiful way to enjoy a healthy snack.
Bone broth offers both protein and collagen, which naturally increases the nutritional value of this popular snack. It also makes for yet another way to incorporate supplements into your life with ease.
Choose from these bone broths for the best flavour profile with popcorn:
Bone Broth Popcorn
Ingredients
1/3 cup popcorn kernels
4-5 tbsp coconut oil, ghee or butter, divided
2 tsp Organika Bone Broth
½ teaspoon kosher salt or to taste
Serves 4
How-to
Place 3 tbsp oil/ghee/butter in large pot over medium heat, with the lid off. Allow to melt.
Place 3 kernels in pot. When one pops, the pot is hot enough.
Add kernels and shake to spread kernels in pot in an even layer.
Cover with lid and remove from heat for 30 seconds.
Return to heat. Gently shake pot every 10 seconds until the popping slows to 1 pop every few seconds. Remove from heat and place in large bowl.
Melt final 1-2 tbsp oil/ghee/butter in pot with bone broth powder and salt. Stir until dissolved. Off heat, add popcorn back into pot and toss to coat. Add additional salt to taste and enjoy immediately.
Yes, this works with plain microwaved popcorn.