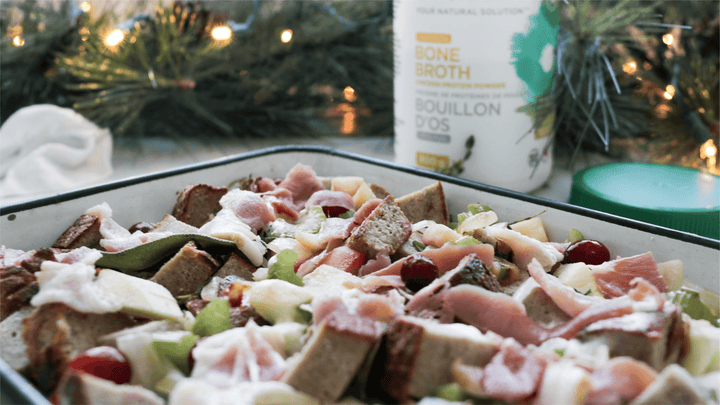 Recipes
Bone Broth Stuffing
Andrea Witthoeft
A holiday feast is not a holiday feast without stuffing! In this Bone Broth Stuffing, a healthier take on the traditional recipe, old fashioned taste meets nutrient-rich
Chicken Bone Broth
: the best of both worlds! What nutrients will you be taking in from this recipe?
Gut-healing L-glutamine
Key minerals for strong bones
Collagen for sturdy joints and healthier skin
Plenty of protein!
Ingredients
½ cup Organika Chicken Bone Broth
1 ½ cup water
1 loaf of bread*
½ cup grass-fed butter
1 granny smith apple (tart)
2 free-run eggs
1 cup fresh cranberries
1 medium white onion
4 stalks organic celery
2 tbsp parsley
½ tbsp rosemary
1 tbsp thyme, fresh
2 tbsp sage, fresh
1 tbsp sea salt
1 tbsp black pepper
Optional: 5 slices of wild boar bacon
*Keep it Keto with Bakerlita's
Beauty Bread
!
How to:
Preheat the oven to 375 degrees.
Preheat a large skillet over medium heat. Then, add the grass-fed butter and allow it to melt. Add the onions and celery along with a pinch of salt and sauté for about 5 to 7 minutes or until they start to become translucent.
In a large bowl, mix together bread cubes, chopped apples, cranberries, fresh herbs and seasonings, along with the cooked onions & celery.
In a blender, add ½ cup Chicken Bone Broth, 1 ½ cups of warm water and one whole egg. Blend on high speed for 5 seconds.
Next, add half of the chicken broth mix to your stuffing and mix together until combined.
Pour the stuffing into casserole baking dish.
Optional: Chop up 6 slices of wild boar bacon & spread chopped bacon all over the top of the stuffing to create amazing flavour!
Cover with foil and bake for 20 minutes. Remove foil and bake for another 30 minutes or until the top is lightly golden brown and the bacon is nice and crispy!
Make sure to join in the holiday cheer and get updates on new festive recipes on our Instagram and Facebook!