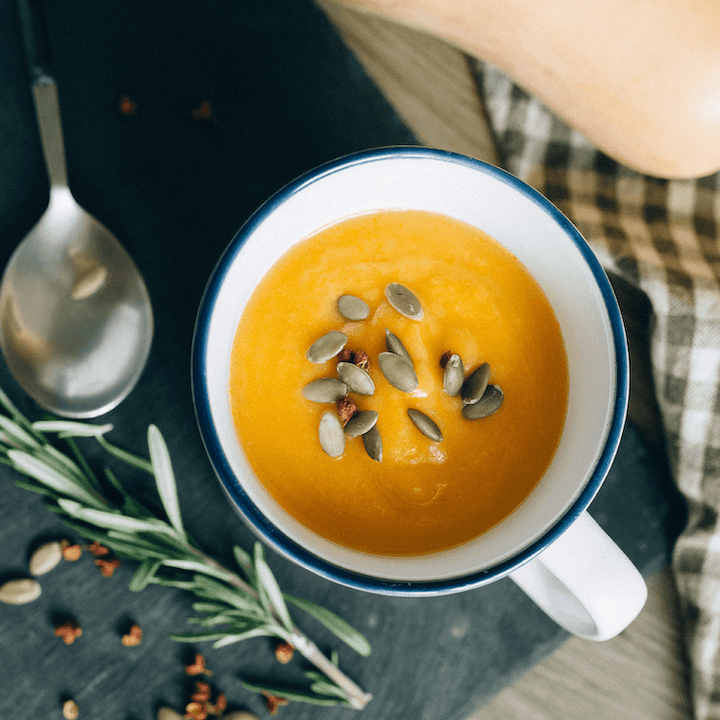 recipes
Butternut Squash Soup with Bone Broth
Organika Health
Perfect for any fall setting, dinner, or a day you need a little comfort.
Loaded with protein, antioxidants, and fibre, this soup is so delicious and warming... all the actual health benefits will seem like an after-thought.
Butternut Squash Soup with Bone Broth
Ingredients
1 medium butternut squash
1 medium sweet potato
1 tbsp avocado oil
Salt and pepper, to taste
1/4 tsp cinnamon
2 garlic cloves
1 tbsp avocado oil (yes, again)
1 granny smith apple
1/2 onion
1 knob ginger (1-2 inches)
1/4 tsp cayenne
1 can full-fat coconut milk
2 cups water mixed with 4 tbsp of Organika's Chicken or Beef Bone Broth Powder
How-to
Pre-heat oven to 400° degrees
Peel and dice the butternut squash and the sweet potato into medium-sized chunks
In a bowl, toss together the squash and potato with avocado oil, a pinch of salt and pepper, 1/4 tsp cinnamon and the garlic cloves
Roast until fork tender, which is usually after 25 minutes
While those are roasting, peel and dice the apple, ginger, and onion
Heat 1 tbsp avocado oil over medium heat and sauté the apple, onion, and ginger
Note: do this step only when the roasting is near done (as you will combine shortly after)
Add the cayenne and the desired amount of salt and pepper
After 5 minutes, add in the roasted ingredients and cook everything together for 2-3 minutes
Add in bone broth mixture and coconut milk and bring to a boil
Once boiling, cook on low to medium heat for about 15 minutes (until everything is completely soft and cooked through)
Remove from heat and blend together with an immersion blender (or transfer small portions into a big blender)
Taste and add more seasoning if needed
Optional: Serve with extra coconut milk, pumpkin seeds, and fresh sourdough!