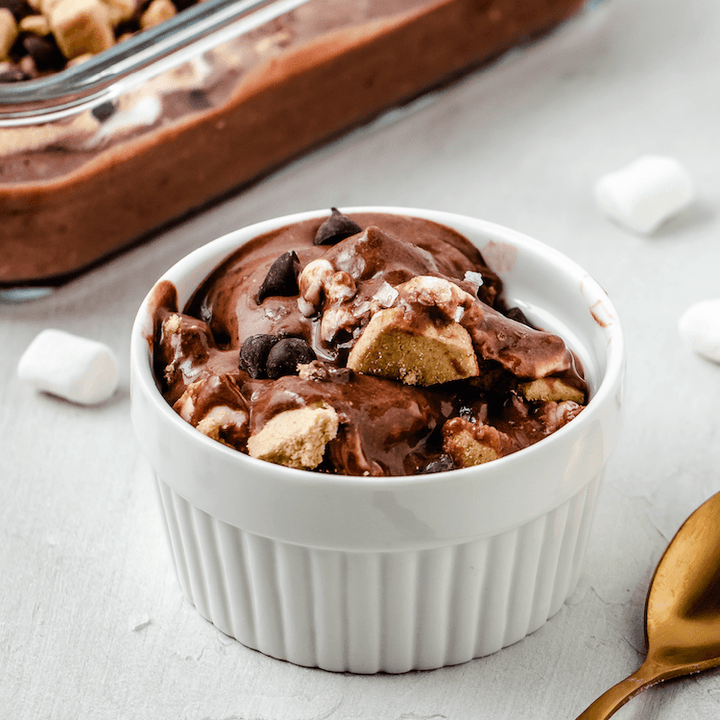 recipes
Chocolate Banana S'mores Collagen Nice Cream
Organika Health
If you're a sucker for s'mores you MUST make it into a nice cream. Making nice cream at home is great because you know exactly what's going in it and it is so versatile. It's a great alternative if you're dairy-free, too. Adding Chocolate Enhanced Collagen makes it extra creamy and extra nutrient, you can't go wrong.
Serves 3
Chocolate Banana S'mores Collagen Nice Cream
Ingredients
3 bananas
½ cup coconut milk (full-fat from a can)
2 tbsps cacao powder
2 scoops Chocolate Enhanced Collagen
1 tsp pure vanilla extract
⅛ tsp sea salt
1 cup mini marshmallows
2 gluten-free graham crackers
½ cup chocolate chips
How-to
Cut the bananas into approximately one inch pieces and freeze for one to two hours
Once the bananas are frozen, add them to a high powered blender or food processor along with the coconut milk, cacao powder, collagen powder, vanilla and sea salt - Blend until smooth.
If needed, add some liquid, a tablespoon at a time
Pour into a freeze safe container and freeze and set aside
Lightly grease a heatproof glass bowl with coconut oil
Fill a pot with approximately two inches of water and add the greased bowl on top
Turn the burner on to a simmer
Add the marshmallows to the bowl with a tablespoon of water and continuously stir until the marshmallows melt
Carefully remove the bowl from the heat
Add dollops of melted marshmallows to the nice cream and swirl it around with a fork
Top it with crushed graham crackers and chocolate chips
Cover and freeze for at least two hours - For a harder ice, freeze longer then thaw for 10 to 15 minutes before serving
Scoop into bowls and enjoy!