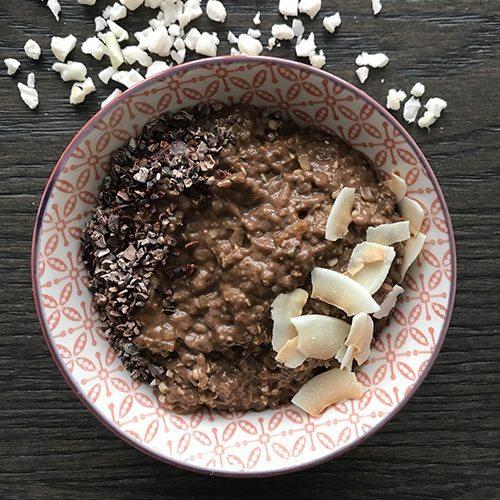 Eat + Drink
Chocolate "Risotto" - Grain Free
Dr. Tara Sunshine MD
If you're a chocoholic like me — and especially if you love chocolate for brekkie — this is one you really gotta try. The base for my "risotto" is cauliflower. Don't let this scare you off — it has an amazing texture and flavour and a couple of my taste-testers actually thought it was rice! It also happens to be dairy-free, grain-free and packed with antioxidants, fibre, healthy fats, protein, adaptogens, and even pre and probiotics!! Cauliflower is one of my fav veggies. It is incredibly versatile and rich in vitamins & minerals, fibre, and disease-fighting glucosinolates, phenols and other powerful phytochemicals. Cruciferous vegetables — a family that includes cauli as well as broccoli, kale, cabbage, and brussel sprouts — have been getting a lot of attention of late. Studies suggest that these nutritional powerhouses may have a role in preventing chronic illnesses such as cardiovascular disease, diabetes, Alzheimer's, and even certain cancers. In this recipe, I have also used tiger nuts. Tiger nuts are not actually nuts but starchy tubers. They have a slightly sweet, earthy, nutty flavour and are incredibly rich in resistant starch, making them a great prebiotic (read more about pre & probiotics and gut health on my website). Unlike other starchy veg, tiger nuts are also a good source of healthy fats.
Chocolate "Risotto" - Grain-free
EASY | SERVES 4
Ingredients:
2 cups riced cauliflower
1/4 cup chia seeds
2 Tbsp ground tiger nuts
1 can (1.5 cups) organic full-fat coconut milk
1 cup unsweetened nondairy milk (I used cashew milk)
2 Tbsp almond butter (omit for nut-free)
1/4 cup raw cacao powder
2 Tbsp Organika Enhanced Collagen (vegan omit or substitute one scoop natural protein) powder
1 Tbsp Organika Gelatinized Maca
1/2 tsp ground cinnamon
1/8 tsp sea salt
1/4 cup shelled hemp seeds (gluten-free if needed)
pure stevia or maple syrup to sweeten as desired
optional toppings: raw cacao nibs and toasted unsweetened coconut chips
Directions:
In a medium pot, mix together cauliflower, chia seeds and ground tiger nuts.
Put both milks, almond butter, cacao powder, collagen, maca, cinnamon and sea salt
into blender container. Blend well.
Pour wet ingredients into the pot, stir to combine, and place over medium-high heat.
Bring to a boil, reduce heat, and simmer for 15 to 18 minutes, stirring occasionally, until
desired texture and consistency reached.
Remove from heat and stir-in hemp seeds and sweetener to taste.
Serve with toppings as desired and enjoy!
Chocolate "Risotto" can be stored in the fridge for 4 to 5 days and served cold or reheated before eating. By: Dr.
Tara Sunshine
(
@drtarasunshine
)
Tara is an avid traveller, fitness enthusiast, and aspiring chef who endeavours to inspire others to experience the joy & richness of life.