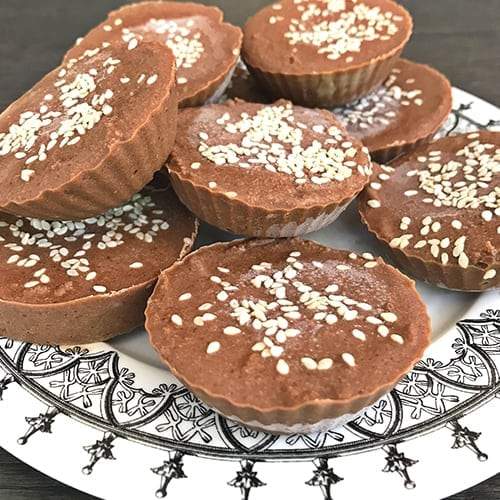 Eat + Drink
Chocolate Tahini Freezer Fudge
Dr. Tara Weir
CHOCOLATE TAHINI FREEZER FUDGE. 
These rich, decadent nut-free fudge cups have been a HUGE hit with all my taste testers. Better still, they're crazy simple to make and packed with antioxidants, minerals, healthy fats & protein. Trust me here and give the recipe a go — your future self will thank me!
Crazy for Cacao
The chocolate used here is actually raw cacao. Cacao is the purest form of chocolate we can consume. It is free of all the unhealthy sugar found in most processed chocolate but rich in essential minerals including magnesium and iron as well as health-promoting flavonoids. These powerful antioxidants are believed to help reduce the risk of hypertension, diabetes, cardiovascular disease, and cancer. Furthermore, cacao both contains and triggers the release of natural feel-good chemicals in our bodies such as serotonin and phenylethylamine (PEA). PEA is the same neurotransmitter that is released when we fall in love!!
Let's Talk Tahini
Tahini paste is made by grinding sesame seeds. The unhulled paste is more nutrient-rich since it is made from intact seeds. Tahini is loaded with vitamins and minerals including calcium, magnesium, copper, zinc and iron. It is easy to digest; a great source of protein and healthy fat; and rich in anticancer, heart-healthy plant lignans as well as methionine, which helps with liver detoxification.
If you aren't a huge tahini fan, this fudge can also be made with your choice of nut butter or kept nut-free by using sunflower seed butter.
Chocolate Tahini Freezer Fudge Recipe
EASY | makes 12 large or 16 smaller fudge cups:
Ingredients:
1 cup coconut butter
1 cup tahini
2 tbsp coconut oil
1/2 cup Organika Health Enhanced Collagen
1/4 cup raw cacao powder
1/4 tsp salt
2 tbsp honey or stevia to taste
Optional toppings: sesame seeds (in featured photo), desiccated coconut, chocolate chips or chunks, sprinkle of sea salt.
Directions:
Put coconut butter, tahini and coconut oil in small pot over low heat and melt together, stirring frequently.

Remove from heat. Scrape into a medium-sized bowl.

Add collagen/protein powder, cacao, and salt and beat together with a hand mixer until smooth. Add sweetener to taste.

Scoop fudge into muffin cups lined with silicone liners. Sprinkle with toppings as desired and freeze until firm.
Chocolate Tahini Freezer Fudge can be stored in an airtight container in the freezer for up to 2 months. I like it straight from the freezer, but it can also be enjoyed at room temperature.
  By: Dr.
Tara Sunshine
(
@drtarasunshine
)
Tara is an avid traveller, fitness enthusiast, and aspiring chef who endeavours to inspire others to experience the joy & richness of life.