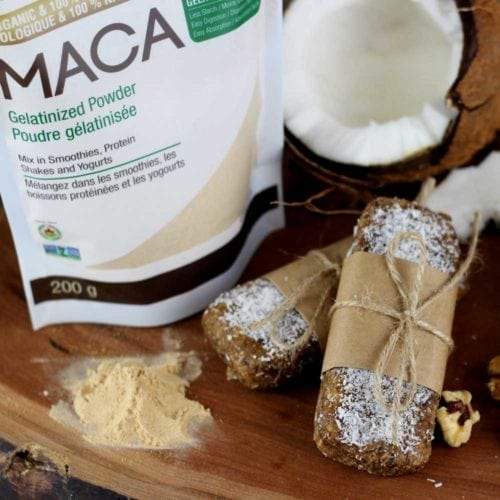 Eat + Drink
Coconut Cream Maca Bars
Organika Health Products
Work, eat, sleep, repeat. Now breathe, because tomorrow is Friday. How many of us can attest to anxiously awaiting the weekend to catch up on life? The work week can make it seem like there is never enough time in a day. To-do lists grow by a mile, workouts get post-poned, meal prep turns into picking up takeout, and 8 hours of sleep turns into 5 or 6. The unfair reality of it all, is that the very things we say there isn't enough time for, are the things that would actually help us boost our energy in the long run. Healthy eating, exercise, and proper sleep are key to making the most of our day, but it's getting there and building those habits that seem to be the most challenging. So let's start small, one step at a time. Nourishing our bodies with healthy food is important for overall health, mood, energy and immunity, so next time you hit that 3pm crash, let's pledge to reach for a healthy snack. Why not try our recipe for Coconut Cream Maca Bars? If you aren't familiar with
maca
, it's a peruvian root, and it has been around for billions of years. Incan soldiers used to use maca for energy and strength prior to battle. Maca is hardy; it manages to thrive in the harsh conditions and the high altitude of the Andes Mountains. When we eat maca, that incredible life force gets passed on to us with a spark in energy and a boost in libido. It nourishes our hormones and balances our mood.
Organika® Maca Powder
is certified organic. It is also gelatinized for less starch, making for easier digestion and excellent absorption. Maca powder has a mild nutty vanilla flavour, and can easily be mixed into a variety of recipes including smoothies, stews, baked goods etc.
Coconut Cream Maca Bars Recipe
Makes 4 bars 
Ingredients
Directions
Mix all ingredients into a food processor.
Divide mixture and shape into 4 bars.
Store in the fridge until you are ready to enjoy!
Coconut Cream Maca Bars are gluten free, dairy free and vegan friendly. 
---
Related Products