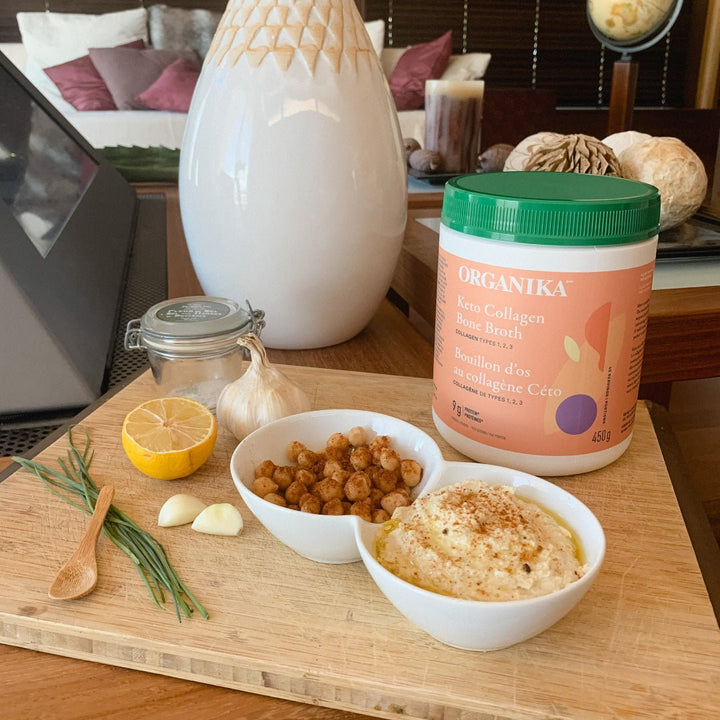 recipes
Collagen-loaded Roasted Chickpeas Recipe
Organika Health
Looking for a fuss-free side dish? This roasted chickpeas recipe delivers in taste and it's loaded with all three main types of collagen, thanks to our Keto Collagen Bone Broth.
Collagen is the most abundant form of protein in our body, providing it with strength, elasticity, and tone. Keto Collagen Bone Broth powder is an all-encompassing superfood that provides all the main types of collagen: type 1, 2, and 3.

Type 1 Collagen primarily goes towards the health of our hair, skin and nails; this type is found in fish skin and scales as well as bovine hides.
Type 2 Collagen works best at building connective tissues, ligaments and cartilage, and is found in poultry bones and cartilage.
Type 3 Collagen builds muscles and organs and is found in bovine hides.
Sustainably sourced from cattle, fish, and poultry, Keto Collagen Bone Broth is free of added hormones, antibiotics and GMOs. Find it exclusively at Costco.ca! 

Collagen-loaded Roasted Chickpeas
Ingredients
1 can of chickpeas
Pinch of salt
1 tsp paprika
½ tsp lemon zest (optional)
How-to
Makes 1 serving
Prep time: 10 minutes
Cook time: 30 minutes
Preheat oven to 400°F. Drain, rinse, and dry chickpeas.
Spread them on a baking sheet and drizzle with olive oil and sea salt.
Bake until golden (roughly 30 minutes).
Remove from oven and toss in Organika Keto Collagen Bone Broth, paprika and lemon zest.
Enjoy!