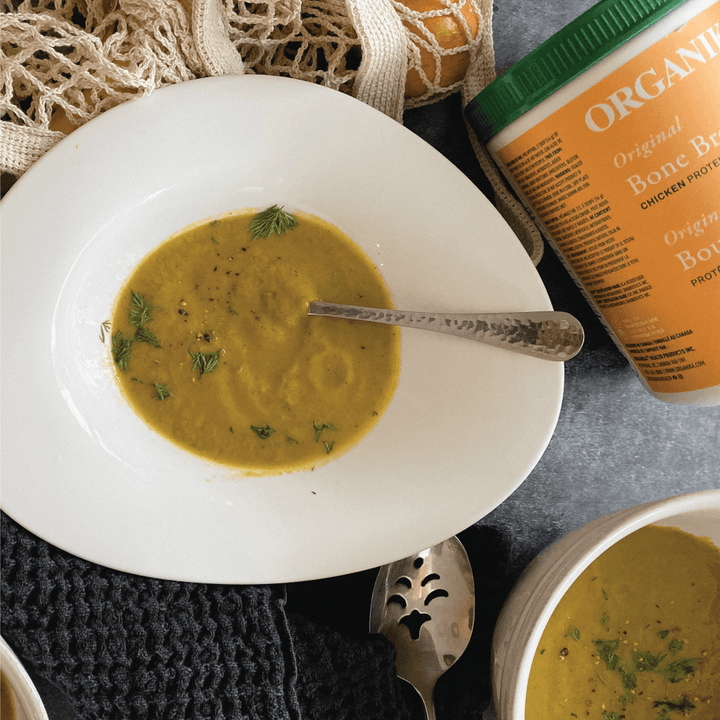 recipes
Creamy Carrot and Dill Soup
Jules Messy Kitchen
What screams "fall" more than a warm and cozy bowl of soup? Oh right, nothing! This carrot and dill soup simmers for 25 minutes, is blended until perfectly smooth, and is best enjoyed with a crispy piece of bread - and of course, extra dill on top! Call me crazy, but I had never been the biggest fan of carrots... In fact, I took a multiple year timeout from carrots because I disliked them that much as a child. However, this soup brought carrots and I back together, because it's just that good!
Think classic carrot soup, but leveled-up with some fresh dill, and an added nutritional benefit with Organika's Chicken Bone Broth. How could you go wrong? To add to the list of perfections of this carrot dill soup, I am happy to inform you that it is also gluten-free, dairy-free, nut-free, as well as picky eater-free 😉 (my 10, 12, and 15-year old brothers approve this message).
Creamy Carrot and Dill Soup
Ingredients
2 teaspoons olive oil
Half a white onion, chopped
½ teaspoon minced garlic
3 sprigs of thyme
4-5 large carrots, washed and chopped
2 cups of vegetable broth
1 ½ cups of Organika Chicken Bone Broth
1 cup of plant-based milk (coconut and oat work great)
2-3 tablespoons chopped fresh dill
1 teaspoon paprika
Salt and pepper to taste
How-to
Add oil to a medium heat sauce pan, and saute chopped onions for 3-4 minutes, until soft and translucent. Add in minced garlic and stir for another minute.
Add thyme, carrots, and paprika, and stir quickly, just until combined.
Cover the mixture with vegetable and chicken bone broth. Bring to a boil, reduce to a simmer and cover with a lid to let simmer for 25 minutes, until the carrots are soft and can be easily mashed with a fork.
Add in plant based milk of choice, fresh dill, and salt and pepper, stir to combine.
Remove thyme sprigs, and transfer the entire mixture to a stand blender. Blend for about 1-2 minutes, until all lumps are gone and a smooth texture is achieved.
Serve in bowls and enjoy with extra dill on top!