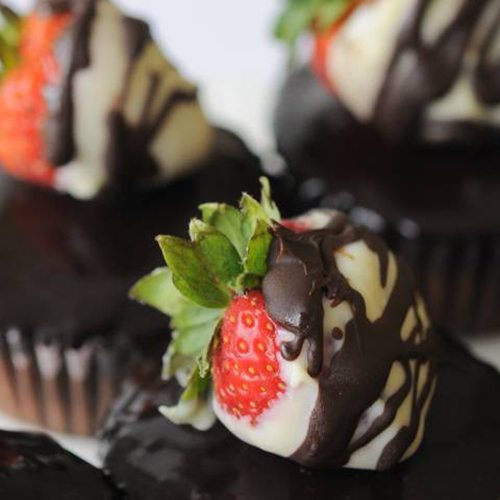 Eat + Drink
Dark Chocolate Breakfast Cupcakes
Kathy Smart RHN
These muffins are a definite hit wherever you may serve them. The ground almonds, Enhanced Collagen powder and whole eggs give a protein punch. This is a great way to get children to eat breakfast—a chocolate cupcake!
PREP 45 MINS | COOK 2 HOURS | MEDIUM | SERVES 12
Ingredients:
3⁄4 cup dark chocolate chips
1⁄2 cup unsweetened applesauce
1⁄2 cup butter or coconut oil
4 whole eggs—separate whites and yolks
1⁄2 cup pure maple syrup
1 teaspoon vanilla extract
1⁄2 teaspoon sea salt
11⁄2 cups ground almonds
5 tablespoons gluten-free flour blend
2 teaspoons gluten-free baking powder
2 teaspoons Organika Enhanced Collagen
Glaze:
1⁄2 cup melted dark chocolate chips
1⁄4 cup agave nectar
3 tablespoons brown rice syrup
1 teaspoon vanilla extract
Directions:
Preheat oven to 350°f.Melt chocolate chips, applesauce and butter/ coconut oil over low heat. Beat egg yolks with 1⁄4 cup of the maple syrup and set aside.
Combine the melted chocolate mixture and egg yolk-maple syrup mixture together. Stir in ground almonds, vanilla extract, baking powder, sea salt, Organika Enhanced Collagen and flour. Beat 4 egg whites with the remaining 1⁄4 cup of maple syrup until stiff. fold into the above mixture. Grease a muffin tin and fill to 3/4 full and allow to bake for 20 minutes or until toothpick comes out clean.
Smart Facts
Eating chocolate triggers the production of endorphins in the body which results in a feeling of happiness. Dark chocolate also contains appetite suppressant properties which help curb your appetite and cravings. Enhanced Collagen gives you the extra protein boost, while also supplying a wide range of amino acids good for gut and skin health. Enjoy the hit of happiness and curb your cravings with these cupcakes.
Kathy Smart is a registered Holistic Chef and teaches, motivates and inspires others to live Smarter by providing healthy recipes and healthy living tips specific to the gluten-free and wheat-free lifestyle.