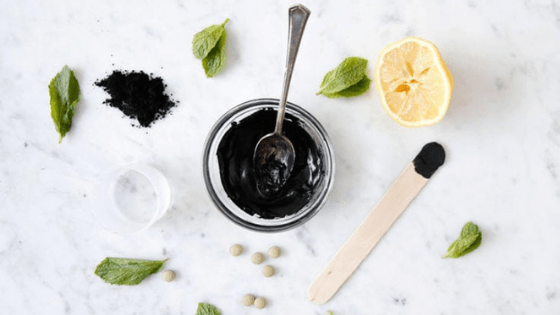 Recipes
DIY Activated Charcoal Exfoliating Body Scrub
Organika Health Products
Updated: August 13th 2018
Get a healthy glow with our homemade exfoliating body scrub recipe
Most beauty products are full of ingredients that you can't recognize yet alone even pronounce. That's why for this recipe, we raided the kitchen cupboards for ingredients you've heard of, to mix with our activated charcoal powder in this detox exfoliating charcoal body scrub. We took organic granulated sugar and organic virgin coconut oil and mixed it with Organika®
Activated Charcoal Powder
for the perfect homemade exfoliant. Now, we know that beautiful skin comes more from the inside than it does the outside, but that doesn't mean you shouldn't take care of the outside as well. As our skin cells turnover, the top layer skins cells die. Without exfoliation, dead skin cells can block your pores and dull the appearance of your skin. Exfoliating gently removes dead skin cell debris to speed healthy skin turnover, prevent breakouts and brighten your skin for that healthy glow we're all after.  
ACTIVATED CHARCOAL BODY SCRUB
EASY | Prep Time: 5 mins
Materials: 
2 tbsp of olive oil (or oil of choice)
2 tbsp of sugar (brown, white, or coconut)
1 tsp of Organika's Activated Charcoal Powder
Essential oil or rosewater
Directions: 
Mix all ingredients in a mason jar to form a paste – I like to make each time I want to use it – however, if you want to keep extra you can double the recipe.
Check out more Activated Charcoal skin care recipes:
DIY Activated Charcoal Soap
How to Make an Activated Charcoal Face Mask
Featured on Fresh Fridays with Chelan Wilkins
Join us every Friday on Instagram at 10:00am PST / 1:00pm EST for amazing recipes and nutritional talks with Organika's products! Make sure to follow us on Instagram at
Organika Health
.