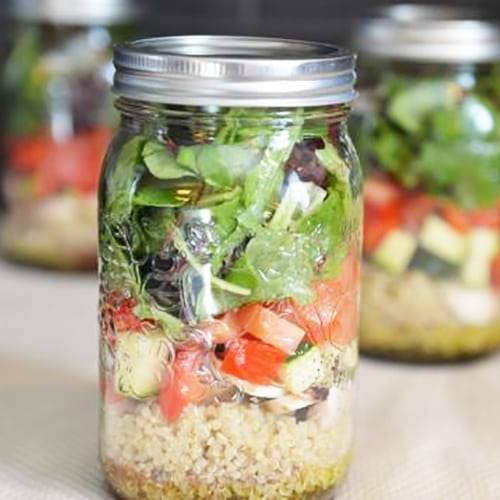 Eat + Drink
Easy Cilantro Lime Quinoa Salad
Ellyl-Faith Llavore
EASY CILANTRO LIME QUINOA SALAD
intermediate | Prep Time: 30 mins | Serves
Ingredients: 
1 cup of uncooked quinoa
1 heaping spoon of Organika's Ginger Bone Broth (chicken or beef)
1 red pepper, chopped
1 yellow pepper, chopped
1/2 small red onion, chopped
1/2 cup of black beans
2-3 limes
1-2 bunches of cilantro, washed
Light olive oil
1 cup Greek Yogurt (if you prefer a creamier dressing)
1/2 tsp of cumin (to taste)
Salt (Himalayan) & pepper to taste
2-3 cloves of garlic
Directions: 
Cook quinoa with Organika's Bone Broth powder a night before or in the morning and allow to cool - I generally add a bit of olive oil after the quinoa is cooked to prevent it from sticking to each other.
In a separate bowl, add chopped peppers, onions, black beans and quinoa. Set it aside.
In a Vitamix, add 6-8 tbsp of olive oil, lime juice (save a few lime wedges for garnish), 1 full bunch of cilantro, salt and pepper to taste, cumin and cloves of garlic. Blend it all until smooth. If you want a creamy dressing, add in Greek Yogurt to get that smooth texture.
Pour the dressing on the quinoa & veggies and mix in a bowl.
Chip up the remaining cilantro and sprinkle on top of the salad with lime wedges to garnish! Store in the fridge before serving.
Featured on Fresh Fridays with Chelan Wilkins
Join us every Friday on Instagram at 10:00am PST / 1:00pm EST for amazing recipes and nutritional talks with Organika's products! Make sure to follow us on Instagram at
Organika Health
.