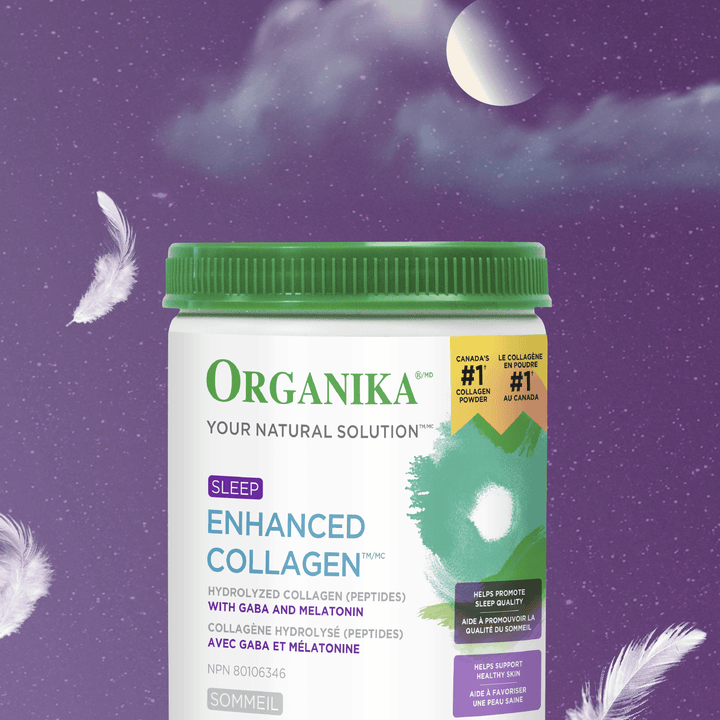 everything collagen
Enhance Your Bedtime Routine: Welcome Enhanced Collagen™ Sleep
Karolina Natalie
I often refer to myself as a 'needy sleeper'. As in, I don't think I've ever in my life just spontaneously fallen asleep while sitting on a chair, I don't sleep in planes, trains or automobiles, and I've don't ever dozed off while watching a movie. I'd rather just turn off the tv, and go to bed. Why? Because I need to be *key word* horizontal, on a nice comfy bed, with the temperature not too warm but not too cold. Are you understanding the 'needy sleeper' thing now?
This unfortunately doesn't translate to being a 'good' sleeper. I usually wake up in the middle of the night a few times (hello cortisol levels), and each night, I enviously listen to my partner drift off to lalaland while I struggle to come to terms with the fact that I probably sent one too many exclamations marks in an email earlier that day. Ugh! Falling asleep is sometimes a challenge, and so is staying asleep. This is even more the case nowadays, during COVID, because of the lack of mental stimulation and connection throughout the day - our minds tend to run wild at night.
Recently I've been on a mission to improve my sleep quality. Sleep is one of the main pillars of health and is monumentally important for us to feel and function optimally. I've incorporated a few well researched supplements, and other tips and tricks to help improve my sleep.
Here are 10 simple things you can start doing to help improve you sleep:
💤 Melatonin: a neurohormone secreted by the pineal gland in the brain. It is very well researched for initiating and regulating sleep. The primary use of melatonin is to normalize abnormal sleep patterns by helping to decrease the time it takes to fall asleep. The benefits of melatonin are not dose-dependent; meaning, taking more will not help you fall asleep fast.  
💤 GABA: a neurotransmitter that regulates many of the depressive and sedative actions in brain tissue and is critical for relaxation. GABA's primary function as a supplement is to improve sleep.
💤 Magnesium Glycinate: this form of magnesium is binded to the amino acid glycine, which has been successfully researched to improve sleep quality. 
💤 Blue light blockers: blue wavelength light from screens tricks your brain into thinking it's daytime, which inhibits the production of melatonin. Some studies suggest that blue light blocking glasses may increase melatonin production in the evening, improving sleep. 
💤 Dim the lights and opt for candles instead. Light suppresses our melatonin production. The more we can limit light, the better.
💤 Trade in the scrolling for page flipping. Start setting boundaries with your phone and laptop and try to keep both out of the bedroom as much as possible. Reach for a book instead.
 💤 Pour yourself a cuppa herbal tea. Chamomile, lemon balm, valerian root or passion flower are all well researched herbs that help us relax. 
💤 Wash your face earlier in the evening. I like to do it right after dinner. I feel much more ready for bed and it also ensures that I'm never too tired to wash my face!
💤 Get some new pillows! Invest in some better quality pillows and linens and get excited about getting into bed.
💤 Speaking of beds - they should only be used for sleeping (or sex). Your bed should be a sacred space, not a place to work or be on your phone. Setting these boundaries will help condition your brain to know that being in bed means that it is ready to fall asleep.
Enhance Your Bedtime Routine
Enhance your bedtime routine with Enhanced Collagen™ Sleep, formulated with GABA and melatonin to support deeper, more restful sleep with the added benefits of collagen!
GABA:
Gamma-Aminobutyric acid is a major neurotransmitter that regulates much of our brain function. It inhibits neural activity, reducing mental and physical stress, promoting relaxation and sleep quality and length, proving effective in treating insomnia and other sleep disorders.
MELATONIN:
Melatonin is a hormone made by the brain, helping to regulate circadian rhythm and promoting the onset of sleep. Melatonin supplementation helps those who struggle with sleep due to jet-lag or shift work, helping to reset the sleep-wake cycle and promote deeper, longer sleep.