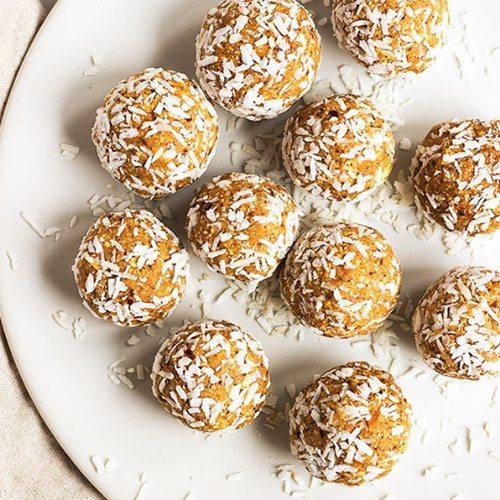 Eat + Drink
Enhanced Collagen Carrot Cake Bites
CHFA Globe
If you like carrot cake, you will LOVE these Enhanced  Carrot Cake Bites!
These Enhanced Carrot Cake Bites are for everyone to enjoy, even for those who are looking for a gluten-free alternative.
PREP 10-15 MINS | EASY | Yields 15-20
Ingredients:
½ cup shredded carrot
¼ ground cloves
7 pitted Medjool dates
½ cup dried mulberries
¾ cup gluten-free rolled oats
1 tsp. cinnamon
½ nutmeg
1 tsp. pure vanilla extract
¼ cup water
2 tbsp. Enhanced Collagen
½ cup shredded coconut (roll balls in coconut)
Directions:
Blend oats in a food processor until fine like flour.
Add dried mulberries. Pulse in to break them up.
Add carrots, vanilla, and spices (cloves, cinnamon, nutmeg) then set aside.
Add date mixture into dry ingredients, fold until combined.
Shape into balls, roll through shredded coconut. Enjoy!