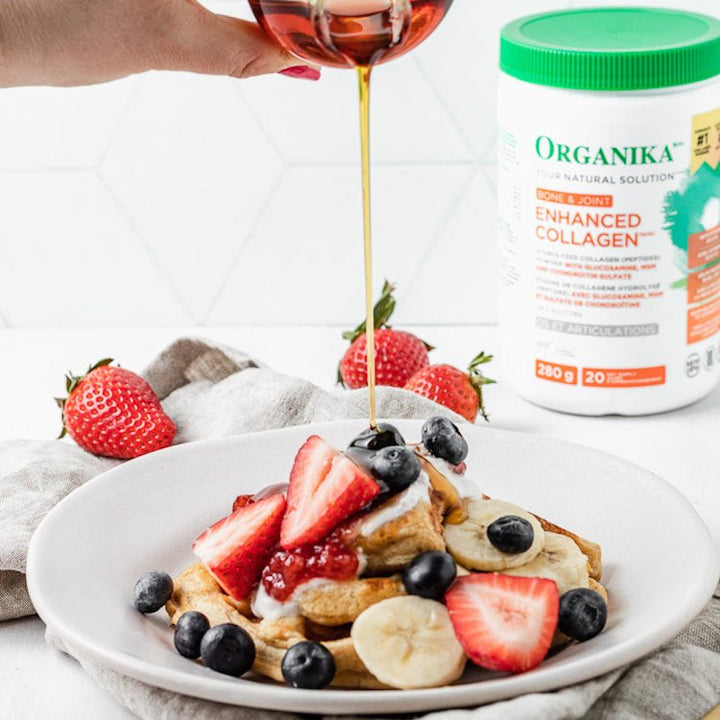 recipes
Fluffy Waffles with Enhanced Collagen Bone & Joint
Organika Health
Add some health into your breakfast routine
If you're like me, you could eat waffles any time!
Not only are they delicious, but they're versatile for meals such as breakfast, lunch and even snacking. Waffles are also a great way to sneak in extra nourishing ingredients like collagen. Enhanced Collagen Powders blend into the batter perfectly without altering the taste.
For this recipe, I went with the Enhanced Collagen Bone & Joint. This is a great way to easily increase joint support, bone health along with collagen supplementation. Given that I workout and on occasion work on new exercise programs, this collagen powder can help keep my bones and joints in tip top shape and keep me pain-free.
Ready to make some waffles infused with added health benefits?
If you don't have a waffle maker, you can make these into pancakes. Just make sure to grease a pan beforehand and make them as little or as big as you'd like.
Whether you're making waffles or pancakes, remember you can play with your toppings; some suggested favourites include:
Greek yogurt or coconut yogurt
Butter or coconut butter
Jam (seriously, so good!)
Maple syrup
Berries
Banana
Nuts & seeds
Nut butter
Coconut flakes
Makes 3 waffles - the amount of servings may differ based on the size of waffle maker used
This recipe has been provided by Tina Gravalos @simplytinag
Fluffy Waffles with Enhanced Collagen Bone & Joint 
Ingredients
1 egg
1 ⅓ cup 1:1 gluten-free baking flour
3 tbsps coconut sugar
3 tsps baking powder
½ tsp cinnamon
⅛ tsp sea salt
1 tsp pure vanilla extract
2 tbsps grass-fed butter, melted, slightly cooled
1 cup plain coconut milk (from a carton)*
*Can substitute coconut milk with alternate choice such as whole milk, oat milk or almond milk
How-to
In a large mixing bowl, whisk the egg
Add the rest of the ingredients then mix well until a batter forms
If the batter is too thick, add more liquid (1 tbsp at a time)
Follow the instructions on your waffle maker on how to cook the waffles
To serve, top with your favourite toppings! I used strawberries, blueberries, banana, coconut yogurt, strawberry jam and maple syrup
Notes:
If the batter ends up being too thin, you can add some additional flour - start with 1 tbsp
You can freeze the waffles and simply heat them up in the toaster when needed