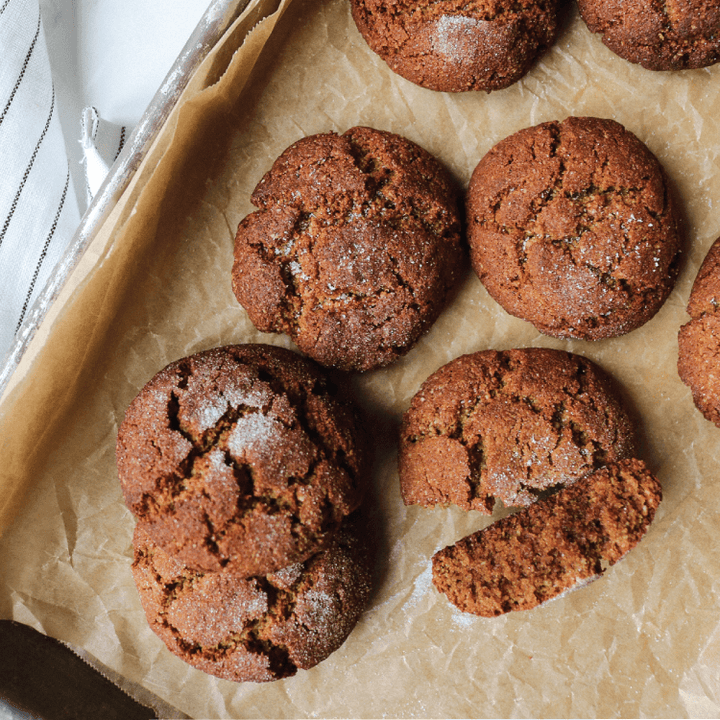 recipe
Ginger Snap Cookies with Maca Recipe
Karolina Gnat
Gingersnap, or ginger molasses cookies, are a classic this time of year. Traditional recipes don't typically have much to offer in the way of nutrients, but this recipe includes nutrient dense (and grain-free) flours like almond and coconut, an egg for a bit of protein and adaptogenic maca powder.

Maca is a Peruvian root that people in the Andes have grown and used for medical purposes for thousands of years. The benefits are vast and range from an increase in libido and sexual function to a reduction in stress and anxiety.

Most notably this plant packs a high iron and iodine punch, and is a good source of potassium, calcium and amino acids. Luckily, maca has a caramel-y taste to it when used in small amounts and adds a lovely flavour to these cookies.

Feel free to substitute butter for coconut oil, if that is your diet. Otherwise, enjoy these tasty keto, paleo cookies, and feel good about eating them too!
Ginger Snap Cookies with Maca
Ingredients
1 cup almond flour
¼ cup coconut flour
⅓ cup coconut sugar or brown sugar
1 tsp each Maca and Maca + Cacao
1 tsp ginger
1 tsp baking soda
½ tsp cinnamon
¼ tsp ground cardamom
¼ tsp ground allspice or cloves
¼ tsp sea salt
¼ cup coconut oil, melted
1 egg
1 tbsp molasses
1 tsp vanilla
How-to
Combine the dry ingredients together in a bowl. Whisk until combined.
In a small saucepan, melt the coconut oil. Allow to cool first, then whisk in the egg, molasses and vanilla. Pour overtop of dry ingredients. Using a spatula, mix to combine.
Using a reusable wrap, cover the dough and put it in the fridge for an hour.
Preheat oven to 350 F.
Scoop 8 - 10 cookies onto a sheet pan lined with parchment paper. Dust with some sugar overtop.
Cook for 12-15 minutes. Allow to cool on the sheet pan for 5 minutes before transferring to a cooling rack.
These cookies can be stored at room temperature or in the fridge if you prefer a harder consistency.