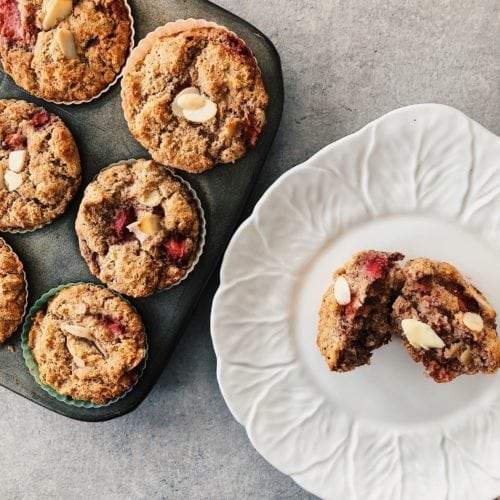 Eat + Drink
Grain Free Strawberry Almond Collagen Muffins
The Organika Team
You've probably heard a lot about "Gluten Free" but have you heard about going "Grain-Free"? This is a popular option for those with digestive and or autoimmune conditions, and we've teamed up with Justine Bouvier (@paleogut on Instagram) to present a yummy Grain-Free Recipe!
Grain Free Strawberry Almond Collagen Muffins
Dry Ingredients:
1/4 cup coconut flour
1/2 cup cassava flour
3/4 cup almond flour/meal
3 Tbsp Organika Enhanced Collagen Powder
2 tsp baking powder
3/4 tsp salt
2 tsp cinnamon
Wet Ingredients:
2 eggs
1/4 cup plain yogurt
1/3 cup honey or maple syrup
1/4 cup almond or coconut milk mixed with 1 tsp apple cider
1 tsp vanilla extract
2 tbsp coconut oil
Add in:
1/2 cup frozen or fresh diced strawberries
1/4 cup slivered almonds
Directions: 
Preheat oven to 350 degrees F
Add wet ingredients to dry ingredients, fold in almonds and strawberries, optional to top with coconut or maple sugar.
Bake in muffin tins for 30-35 minutes, until toothpick comes out clean.
Allow to cool completely. Enjoy!
Follow
@Paleogut
on Instagram for more Grain-Free Recipes!