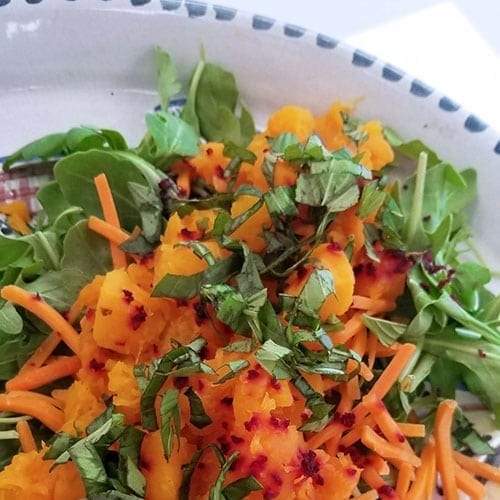 Eat + Drink
Healthy Butternut Squash Detox Salad
Chelan Wilkins, RHN
Healthy Butternut Squash Detox Salad
Ingredients:
3 cups of cubed peeled butternut squash or precut packaged squash

1 tbsp Organika's Bone Broth Original
1 tablespoon olive oil

¼ heaping teaspoon turmeric

¼ teaspoon cumin

¼ cup (60 ml) grapeseed or vegetable oil

¼ cup (60 ml) apple cider vinegar

2 tablespoons Greek yogurt

1 bunch of arugula

1 bunch of kale leaves cut cross-wise into slivers

Salt and pepper to taste
Directions:
Preheat the oven to 425°F (220°C), with a rack in the middle position. Put the squash on a large sheet pan and sprinkle with the olive oil, turmeric and cumin and season with a salt and pepper. Using your hands, combine well, then spread the squash out across the pan.

Roast until lightly browned on the bottom, about 15 minutes, then gently scrape under the pieces and toss them around, spreading them out again. If the pieces stick to the pan, resist the urge to force them up—you'll likely end up with a pan full of mangled squash; instead, simply cook them for another 5 minutes or so, then try again. After tossing the squash, cook until just tender with slightly caramelized edges, about 10 minutes more. Let cool for a few minutes.

Meanwhile, in a small bowl, whisk together the grapeseed oil, vinegar, yogurt, bone broth powder, then season with salt and pepper. (Or, in a jar with a lid, combine the ingredients, cover, then shake vigorously.) Check the seasonings. Quickly dip a piece of kale in the dressing, shake off any excess, and check the seasonings again.

In a large bowl, combine the kale, arugula and roasted squash. Drizzle the salad with enough dressing to lightly coat, then toss to combine. (Save any extra dressing for another use.) Check the seasonings.
Featured on Fresh Fridays with Chelan Wilkins
Join us every Friday on Instagram at 10:00am PST / 1:00pm EST for amazing recipes and nutritional talks with Organika's products! Make sure to follow us on Instagram at
Organika Health
.