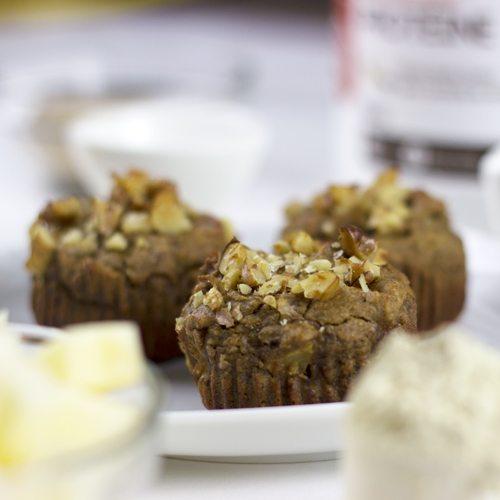 Eat + Drink
High Collagen Protein Apple Cinnamon Muffins
Organika Health Products
Freezer-friendly high collagen protein muffins for a grab-and-go breakfast
Muffins often get a bad reputation for being low in nutrients and loaded with sugar. But these high protein muffins are healthy enough that you can eat them for breakfast or pack them for a snack without an ounce of guilt. Protein-packed with a boost of fibre, these muffins will help satisfy your hunger and keep your blood sugar levels stable. Grab them on the go, or slather on nut butter for a healthy timesaving breakfast. To make these muffins allergen-friendly try any of the following swaps:
Gluten-free – Use certified gluten-free oats
Nut free – Try sunflower seed butter and hemp milk
Sugar-free – Try sweetening with stevia
Apple Cinnamon Protein Muffins
Makes 9 muffins
Ingredients
Dry ingredients
2/3 cup oat flours
2 tbsp Organika Enhanced Collagen Powder
2 tbsp ground flaxseeds
3/4 tsp baking powder
1/2 tsp baking soda
1/2 tsp of salt
1 tsp cinnamon powder
1/4 tsp ground nutmeg
1/4 tsp ginger powder
Wet ingredients
1/2 cup nut or seed butter (peanut butter almond butter or sunflower seed butter)
1/3 cup almond milk (plain, unsweetened)
1/2 cup applesauce (unsweetened)
1 tbsp pure maple syrup
Add-ins
1 cup apple chunks (about 1 apple)
1/4 cup of nuts
Optional: top with more nuts
Directions
Preheat the oven to 375°F
Combine all the dry ingredients and mix to combine.
Add the wet ingredients and mix until smooth.
Stir in apple chunks and nuts.
Scoop into muffin liners, and add toppings if desired.
Bake for 20-25 minutes.
Let stand in the pan for 5-10 minutes before moving to a cooling rack.
Allow the muffins to cool before enjoying.
These muffins also freeze well, so it's easy to make a batch or two in advance to have on hand for rushed mornings.
What's your favourite on-the-go breakfast?