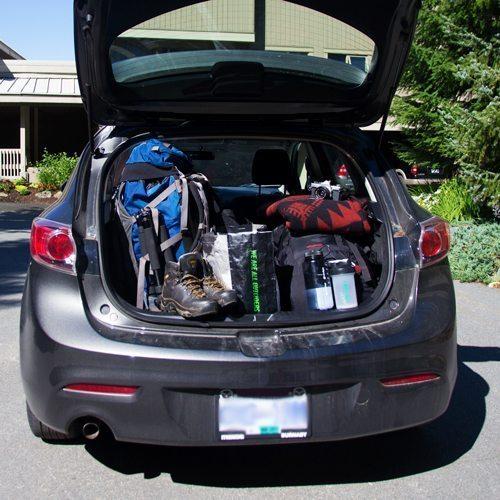 Eat + Drink
How to Eat Healthy on a Road Trip
Organika Health Products
Stay on track during your travels with healthy road trip snacks
A road trip is not complete without grabbing your meals from a drive through window and taking photos with weird tourist attractions you'd otherwise never seek out.
World's Largest Paddle
anyone? It's actually a thing. But while we're totally on board with you letting loose on
vacation
, you don't need to throw it all away and live off fries. There are plenty of ways to eat healthy on a road trip.  
Here's how:
1. Plan Ahead
While you're mapping out your trip, take note of grocery stores, and restaurants along your route. Grocery stores are a great place to stop for healthy road trip snacks like fruit or veggies and hummus. Trade in drive through windows for local restaurants. They're bound to have more variety than burgers and fries, you might even find some hidden gems with delicious menus.
2. Pack a Cooler
Don't leave home without a cooler in your car. You can easily grab ice at grocery stores and gas stations to keep it cool along the way. A cooler is your best friend when it comes to taking healthy snacks on the road. Stock it full of fruits and veggies, healthy dips or pre-made
smoothies
. The next time you pull over to a viewpoint or rest spot, you'll be prepared.
3. BYOB – Bring Your Own Breakfast
Oatmeal is the perfect on-the-road breakfast.
Make your own pre-packed oatmeal kits
with quick cooking rolled oats, cinnamon, and dried fruit and nuts for flavour. You can grab a cup of hot water at pretty much any coffee shop on the way, mix it in with your oats, let it sit a few minutes, then dig in. They taste as great as the store-bought kinds you used to eat as a kid, without all the added sugar.  
4. Snack on Fruit
Fruit is the number one healthy road trip snack that exists. Think about it. It's delicious, nutritious, and the waste is biodegradable. It's also easy to eat – no utensils needed. Yes, please.
5. Drink Your Greens
It's safe to say most of us don't eat enough greens on a daily basis yet alone on vacation. That's why
green powders
are the perfect fix! Bring a shaker cup, your favourite greens powder and add some water or juice. Shake it up and drink your way to green goddess status.
6. Hydrate
If you're the type of person who never seems to
drink enough water
on the go, your solution is a reusable water bottle. You can fill them up almost anywhere these days, and you can also get really great ones that keep your drink cool and refreshing no matter how hot it gets outside. Aim to drink a full bottle of water in the morning before heading out on the road, and make sure to sip frequently throughout your trip. Water helps to flush out toxins, and
keep your joints from feeling achy and stiff
. Sure you might need to stop for more bathroom breaks, but hey, pee breaks also mean stretching breaks. Happy road tripping!
What's your go-to travel snack?