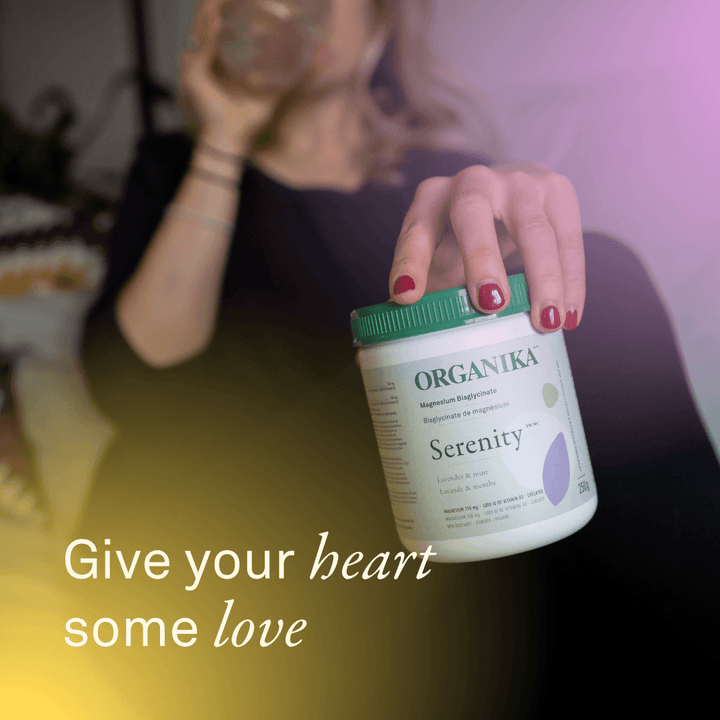 supplements
How to Improve Your Heart Health
Amy Wilson
Our beating heart is a muscle that works non-stop, delivering fresh oxygen and nutrients all around the body. This muscle pumps approximately 5 litres of blood through our blood vessels at all times. Together our heart and circulation make up what we call our cardiovascular system. Keeping our cardiovascular system healthy and strong is key to our overall health and vitality.  
How to improve your heart health 
When optimizing our heart health, diet, exercise, and stress management are key players to prioritize. Eating foods rich in antioxidants such as berries and leafy greens, and consuming foods rich in omega-3 is important. Exercise will keep your heart muscle strong and can slow your resting heart rate and blood pressure. Stress management techniques such as deep breathing, meditation, or yoga will help your body handle stress better which in turn, is less work for your heart.  
Heart health supplements 
Going beyond the basics of diet, exercise, and stress management, there are a variety of supplements that can support the health of your heart.  
Coenzyme Q10 and heart health 
Coenzyme Q10, or CoQ10 for short, is a naturally occurring antioxidant in the body and an important nutrient that contributes to energy production in every cell of your body. Although CoQ10 is metabolically needed in all tissues, it is especially found in high concentrations in the heart. CoQ10 plays a major role in cardiovascular health by meeting the high energy demand of cardiac cells of the heart.(1) 
Unfortunately, levels of CoQ10 decline as we age.(2) Certain drugs such as statins, which lower blood lipids, inhibit the natural synthesis of CoQ10, which can leave an individual deficient.(3) Heart disease and nutritional deficiencies such as B vitamins have all been shown to decrease levels of CoQ10. Due to these factors, CoQ10 has been used as a supplement to increase the cardiovascular health of individuals for more than 30 years.(4)  
Magnesium and heart health 
Magnesium is a critical mineral needed for over 300 metabolic reactions in our body. Magnesium is especially important when it comes to our cardiovascular health. Being deficient in magnesium can lead to a host of complications, including heart disease.(5) A healthy heart needs adequate levels of magnesium to function optimally and to maintain healthy blood pressure. 
Probiotics and heart health 
Having a healthy gut plays an enormous role in your cardiovascular health. When your microbiome is in balance, it strengthens your immunity, reducing physiological stress, and keeps inflammation down. Cardiovascular health is adversely affected by prolonged inflammation. Inflammation can cause damage in blood vessels leading to atherosclerosis, as well as other cardiovascular conditions.(7) 
Having a healthy gut microbiome may help protect you from systemic inflammation and therefore protect the health of your heart. Probiotic supplements alongside a diet rich with fibre and low in processed foods can assist in optimizing the healthy biome in your intestines, keeping your heart health optimal! 
Shop Probiotic + Prebiotic Powder
Adaptogens and heart health 
Long term physiological and mental stress will take a toll on the health of our hearts. It is important to keep stress minimal but is easier said than done. Besides adequate exercise and meditation, you can support your stress response with adaptogen herbs such as Ashwagandha and Holy Basil. Adaptogens help your body 'adapt to stress' and therefore, help counteract the negative effects caused by the stress.  
When it comes to maintaining or improving the health of our heart, there is a lot to take into consideration. Taking a holistic approach by addressing your diet, exercise habits, and stress reduction techniques are all VERY important. If you have a heart condition or want to supplement your way to a better heart, always talk to your Naturopathic Doctor and find out what supplements are right for you before starting any new regime.  
Take care of yourself!  
References 
Kumar A, Kaur H, Devi P, Mohan V. Role of coenzyme Q10 (CoQ10) in cardiac disease, hypertension, and Meniere-like syndrome. Pharmacology & therapeutics. 2009 Dec 1;124(3):259-68. 

 
NiklowitzP, Onur S, Fischer A, Laudes M, Palussen M, Menke T, Döring F. Coenzyme Q10 serum concentration and redox status in European adults: influence of age, sex, and lipoprotein concentration. Journal of clinical biochemistry and nutrition. 2016:15-73.

 
Caso G, Kelly P,McNurlan MA, Lawson WE. Effect of coenzyme q10 on myopathic symptoms in patients treated with statins. The American journal of cardiology. 2007 May 15;99(10):1409-12.

 
Folkers K,Vadhanavikit S, Mortensen SA. Biochemical rationale and myocardial tissue data on the effective therapy of cardiomyopathy with coenzyme Q10. Proceedings of the National Academy of Sciences. 1985 Feb 1;82(3):901-4.

 
Chakraborti S, Chakraborti T, Mandal M, Mandal A, Das S, Ghosh S. Protective role of magnesium in cardiovascular diseases: a review. Molecular and cellular biochemistry. 2002 Sep;238(1):163-79.
McCarty MF. Complementary vascular-protective actions of magnesium and taurine: a rationale for magnesiumtaurate. Medical hypotheses. 1996 Feb 1;46(2):89-100.

 
PashkowFJ. Oxidative stress and inflammation in heart disease: do antioxidants have a role in the treatment and/or prevention?. International journal of inflammation. 2011 Oct;2011.